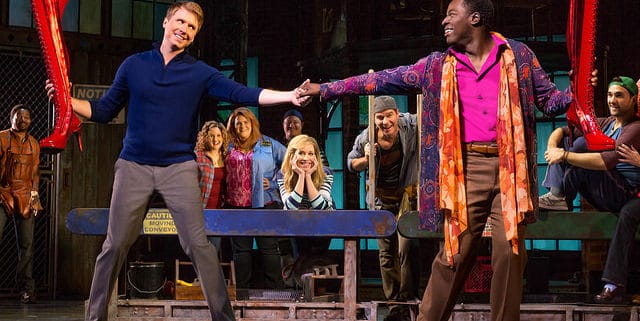 Podcast: Running Lines with Cyndi Lauper

Listen to our podcast interview with Cyndi Lauper by pushing play.
Episode 170: John Moore chats with none other than Cyndi Lauper her own self. Lauper wrote the music for the 2013 Tony Award-winning best musical, Kinky Boots, which plays in Denver from Oct. 29 through Nov. 9 at the Buell Theatre.
Lauper talks about bullying, drag queens and Cyndi's late friend, Gregory, who inspired her now anthemic song, "True Colors."
Lauper is especially pleased that Kinky Boots, a fun story of inclusion and acceptance, has launched its first national tour, and will now be seen by audiences beyond Broadway.
"People who are different in Middle America have no place (to go), really," Lauper says in the podcast. "They don't have anybody to speak up for them. (But) sometimes you can change your mind about a person by understanding their story."
Lauper challenges audiences to "pick one person and change your mind about them — and that will help change the world."
Lauper also had kind things to say about two Colorado actors with Kinky Boots connections: Eaglecrest High graduate Andy Kelso, who was cast in the ensemble of the hit the Broadway production and is now playing the leading role of Charlie; and Annaleigh Ashford, who originated the role of Lauren and was nominated for a Tony Award. She graduated from Wheat Ridge High School.
"Andy has a quality about him that's really kind of sexy, and very rock and roll," Lauper said. And he has a good ear. Kelso is really, really great in this role."
Kelso also has been flown back to Denver from New York to sing the national anthem before the Denver Broncos' Thursday night football game against the San Diego Chargers tonight (Oct. 23).
Ashford is now starring on Broadway in You Can't Take it With You. She was part of Kinky Boots from development through its first year on Broadway.
"When we saw Annaleigh, she was pretty fantastic," said Lauper, who changed the direction of Lauren's big song, "A History of Wrong Guys," after meeting Ashford and seeing what she could do.
"I continued writing (the song) really geared toward her, because when I saw her I thought, 'Oh my God,' she could do great,' " Lauper said. "And the rest is history."
Kinky Boots: Ticket information
Oct 29-Nov 9
Buell Theatre
Accessible Performances: Nov 9, 2 p.m.
Tickets: 303-893-4100 | www.denvercenter.org
Groups (10+): 303-446-4829
Our Previous Kinky Boots coverage on Denver CenterStage:

Video: Exclusive interview with Andy Kelso and Annaleigh Ashford of Kinky Boots
Recent "Running Lines" episodes:
169: Kathy Maes, Charlie Franklin and Matt Gumley of Lord of the Flies
168: Jeremy Palmer, Ed Mills and J Murray d'Armand of L.A. Diner
167: Laura Norman and Josh Hartwell on Grounded and Dylan Went Electric
166: Alison Horsley on Animal Crackers and the art of Dramaturgy
165: Christy Montour-Larson on directing Shadowlands

From left: Steven Booth and Kyle Taylor Parker of the national touring production of "Kinky Boots." Photo by Matthew Murphy.
https://www.denvercenter.org/wp-content/uploads/2018/04/featured-image-1274.jpg
427
640
John Moore
John Moore
2014-10-23 00:57:00
2014-10-23 00:57:00
Podcast: Running Lines with Cyndi Lauper