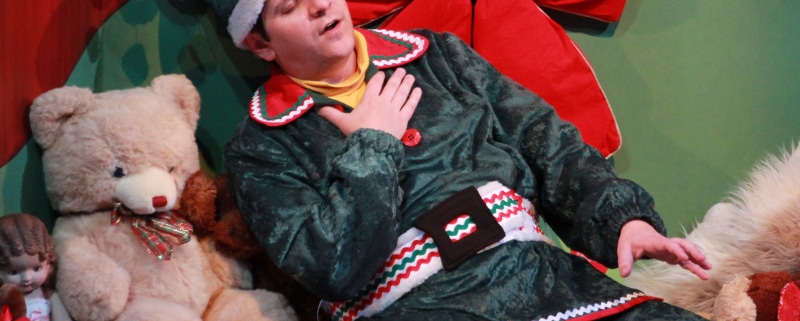 Stephen Weitz on 10 years of seasonal 'SantaLand' sarcasm
2018 marks the end of the metro area's second consecutive 10-year run of David Sedaris' caustic holiday comedy about a bitterly funny Macy's elf
In 2008, we made a decision that would forever change the path of the Boulder Ensemble Theatre Company.  As the Bug Theatre's longtime seasonal holiday production of The SantaLand Diaries was winding down after 10 years in northwest Denver, I said to my staff: "Hey, maybe we should try to get the rights next year."
Little did I know we were signing up for our own extended stint as the local purveyor of David Sedaris' particular brand of holiday humor. But here we are, four Crumpets, hundreds of performances and many, many laughs later, staring at BETC's 10th anniversary production of  The SantaLand Diaries — and seventh since partnering with the Denver Center and moving the show to the Denver Performing Arts Complex.
Local ne'er-do-well, BETC Ensemble member and Denver Center favorite Geoffrey Kent was the first to don our candy-cane leggings, playing the role of David/Crumpet for our first three installments at the Dairy Arts Center in Boulder.  My wife, Rebecca Remaly, who is also my business partner and BETC's Managing Director, directed that first year.  As we planned for the second episode, Rebecca displayed her infinite wisdom when she said, "Honey, why don't you direct this year?" Nine years later, I find myself still helming these holiday hijinks.  Well played, Rebecca … well played.
After Geoff's stint, we looked to another local celebrity with Denver Center ties, Matt Zambrano — a move that required much shorter tights. Matt had the joy of doing three seasons of the show in three different spaces: The Dairy Center, the DCPA's Garner Galleria Theatre and finally our current home at the Jones Theatre.  With each move, we have created a new set, requiring new blocking and new gags.  But everywhere we went, the heart of the show remained David's story of ribaldry and redemption. Or if not redemption, at least a little comic self-awareness.
After Matt moved to New York, we handed over the reins of the sleigh to another BETC Ensemble member, Michael Bouchard, who had been part of the Denver Center's A Christmas Carol cast. Michael brought his own brand of wry humor to the piece, along with some sweet dance moves. Audience demand necessitated additional performances, so a kindler, gentler Crumpet named Luke Sorge joined the team as "Other David" — sharing the performance calendar with Michael.
So many others have contributed to the success of this production over the years. Andrew Metzroth (or Metz if you're nasty), created an outrageous soundscape that serves as another character in the play.  Our dear friend Jamie Ann Romero (The Legend of Georgia McBride) makes an annual appearance as the voice of the Macy's store announcer — a role we recorded in a Dairy Center dressing room way back in Year 1. And of course, all the folks at the DCPA and Off-Center who welcomed our Boulder band of ruffians and helped the show blossom into something even better than it had been before.
To be honest, there is a little part of me that dreads the coming of the holidays and the arrival of SantaLand.  But invariably, once I'm in the rehearsal room, I find myself smiling and laughing, delighted by the brilliant humor of the piece and the actors who perform it. And at the end of the play, when Crumpet experiences his own "Scroogian" awakening, it's not uncommon for me to wipe away a tear.  Not too bad for 10 years later.
Stephen Weitz is a co-founder of the Boulder Ensemble Theatre Company and a frequent DCPA Theatre Company guest artist who has directed Tribes and Jackie & Me, and appeared in Tom Sawyer, King Lear, Richard III, Othello and A Midsummer Night's Dream.
The SantaLand Diaries: Ticket information
At a glance: Crumpet the Elf returns for more hilarious holiday hi-jinks in this acclaimed one-man show. Looking for a little more snark in your stocking this year? David Sedaris' offbeat tales from his stint as a Macy's elf in New York City are the sure cure for the common Christmas show.
Presented by Off-Center and Boulder Ensemble Theatre Company
By David Sedaris
Adapted for the stage by Joe Mantello
Directed by Stephen Weitz
November 23-December 24
Jones Theatre
Tickets: 303-893-4100 or BUY ONLINE
Video bonus: A look back at The Bug Theatre's The SantaLand Diaries
The SantaLand Diaries has been a metro holiday tradition for 20 years, the past seven at the Denver Center for the Performing Arts. Here's a look back at the final performance at The Bug Theatre in 2008 after 10 consecutive years of seasonal stagings in northwest Denver.
https://www.denvercenter.org/wp-content/uploads/2018/11/SantaLand-BETC-Michael-Bouchard.jpg
557
800
John Moore
John Moore
2018-11-13 15:21:23
2018-11-14 09:11:10
Stephen Weitz on 10 years of seasonal 'SantaLand' sarcasm