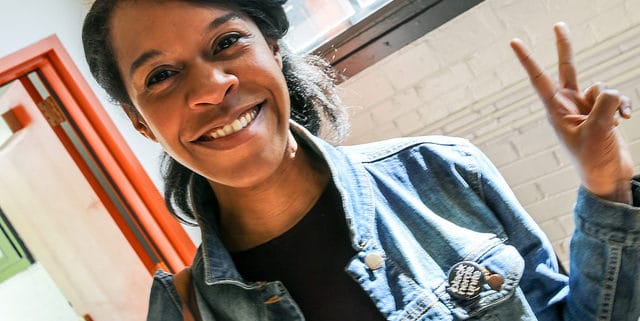 Summit prep begins at the intersection of Eugene O'Neill and Metallica
Photos from the first day of the DCPA Theatre Company's 13th annual Colorado New Play Summit, which features readings of new works by Sigrid Gilmer, David Jacobi, Kemp Powers and Barbara Seyda. To see more, click on the image above to be taken to our full gallery of downloadable photos. Photos by John Moore for the DCPA NewsCenter.

DCPA's 13th annual Colorado New Play Summit is underway as dozens of artists begin work on four new plays
By John Moore
Senior Arts Journalist
Preparations for the DCPA Theatre Company's 13th annual Colorado New Play Summit officially got underway today with the first gathering of dozens of professional actors, playwrights, directors and other creative artists who will help to develop four promising new plays over the next two weeks.
They will take on developing works that address systemic racism and hypocrisy in the criminal-justice system, that revisit the Challenger space disaster and an 1855 slave trial. One — no joke — explores the intersection of Eugene O'Neill, Tennessee Williams and the heavy-metal band Metallica.
"We're in this rocky time in this country, in our lives and in our history," Associate Artistic Director Nataki Garrett (pictured right) said at the welcome gathering. "As a nation, we are trying to figure who we are and who we are going to be — and in these moments, I feel like it is so important to listen to playwrights."
The Colorado New Play Summit, which has one public weekend of readings Feb. 17-18, followed by a second weekend attended mostly industry professionals Feb. 23-25, is the DCPA's signature festival dedicated to supporting playwrights and developing new work for the American theatre. Garrett made a point of thanking former DCPA Theatre Company Artistic Director Kent Thompson for founding the celebration of playwrights back in 2006. The Summit comes at a time when Denver Center-born new plays are proliferating on national stages like never before. And just yesterday, it was announced that Matthew Lopez's The Legend of Georgia McBride, which was born at the 2013 Colorado New Play Summit, will be made into a film starring Jim Parsons.
The 2018 Summit will feature readings of new works by (clockwise from top left) David Jacobi, Kemp Powers, Barbara Seyda and Sigrid Gilmer, alongside world-premiere productions by José Cruz González, Matthew Lopez and Lauren Yee.
The playwrights, some commissioned by the Theatre Company, are given two weeks with professional directors, actors and dramaturgs to workshop their new plays.
"We get to hear from the mouth and the body and the heart and the soul of these vessels who bring forth their incredible ideas to remind us how much better we can be in the world," Garrett said.
The pool of more than 35 actors is a mix of familiar names in the Colorado theatre community, returning Denver Center, visiting actors and several who currently performing in Theatre Company world premieres.
The roster includes Colorado Theatre Guild Lifetime Achievement winner Billie McBride, legendary film and stage director donnie l. betts; Denver Center veterans Steven Cole Hughes, Emily Van Fleet, Gareth Saxe, Erin Willis, Nick LaMedica and Aspen Rader; DPCA Teaching Artists Joelle Montoya, Quinn Marchman and Robert Lee Hardy; and nearly the entire cast of Curious Theatre's current offering of Detroit '67: Jada Dixon, Cajardo Lindsey and Anastasia Davidson. She and Alaina Beth Reel recently appeared in The Catamounts' You on the Moors Now.
The Summit casts also include Linden Tailor from the DCPA Theatre Company's The Great Leap; Natalie Camunas from American Mariachi; and Nija Okoro, Grayson DeJesus and Nick Ducassi from Zoey's Perfect Wedding.

Since its founding, the Summit has introduced 53 new plays, over half of which returned to the stage as full Theatre Company productions. Recent Summit world premieres include Lauren Gunderson's The Book of Will, Tanya Saracho's FADE, Samuel D. Hunter's The Whale, Theresa Rebeck's The Nest, Marcus Gardley's black odyssey, Karen Zacarias' Just Like Us, Jeffrey Haddow and Neal Hampton's Sense and Sensibility The Musical, and Dick Scanlan's reimagined version of The Unsinkable Molly Brown.
2018 FEATURED NEW-PLAY READINGS:


Mama Metallica
By Sigrid Gilmer
Directed by Jaki Bradley
Dramaturgy by Ricardo A. Bracho
Stage Manager: Dana Reiland
Stage Management Apprentice: Molly Langeberg
Budding playwright Sterling Milburn has always been overshadowed by her fabulous mother, Louise. Even when she's holed up in a care facility with Parkinson's, Louise finds a way to steal the spotlight. But with the overly critical eyes of Eugene O'Neill and Tennessee Williams to fuel her rebellion and the frenetic energy of Metallica to help find her voice, Sterling sets out to write a story that is finally her own. As unfortunate histories mesh with hilarious interludes, Sterling must face the truth: her pain, her joys and her life will forever be shaped by and linked to the woman who raised her. Sigrid Gilmer's joyfully irreverent black comedy entwines issues of identity with pop-culture icons for a truly unique — and head-banging experience.
Says the playwright: "The two big influences on my life have been my mom and the heavy-metal band Metallica. My play is about how those two things collide. The play is also a love letter to theatre and the tradition of those big, sweeping autobiographical mid-20th century plays by Eugene O'Neill and Tennessee Williams."
Sterling Milburn: Courtney Sauls
Louise Bell Milburn: Lee Sherman
James Hetfeld: Nick Ducassi
Lars Ulrich: Grayson DeJesus
Kirk Hammett: Linden Tailor
Cliff Burton: Adam Haas Hunter
Blue Orchid: Robert Lee Hardy
Pink Orchid: Luis Quintero
Stage Directions: Aspen Rader
---
The Couches
By David Jacobi
DCPA Theatre Company Commission
Directed by Caitlin Ryan O'Connell
Dramaturgy by Doug Langworthy
Stage Manager: Corin Ferris
Stage Management Apprentice: Amy LeGore
Ethan Couch has lived in a bubble of pampered privilege for his entire life, so when he's convicted of killing four people while driving drunk, he and his mother take $40,000 and flee to a resort in Mexico rather than face the consequences. In this self-imposed state of limbo, Ethan pays hotel clerk Daniel $1,000 to be his friend and help maintain the facade of his prior life. But as the unlikely pair drink, sing, and stumble through the night, delusions of how the world works melt away as quickly as their cash flow. Playwright David Jacobi draws from the infamous real-life 2013 "affluenza" court case to weave a surreal story of personal and legal recklessness.
Says the playwright: "Ethan Couch came from a rich family and he a had a great lawyer who argued that Ethan was too rich to know right from wrong. I was enraged when he went on the run, but when he was caught, I felt like this was a really interesting idea of late-stage capitalism: These people hiding out in this antiseptic place waiting for justice. And the play devolves into this Lynchian nightmare. … I think it's funny."
Ethan Couch: Nick LaMedica
Tonya Couch: Tasha Lawrence
Daniel: Cesar J. Rosado
Stage Directions: Alaina Beth Reel

---
Christa McAuliffe's Eyes Were Blue
By Kemp Powers

A DCPA Theatre Company Commission
Directed by Nicholas C. Avila
Dramaturgy by Jerry Patch
Stage Manager: Rick Mireles
Stage Management Apprentice: Mariah Brown
Even though they share the same DNA, twins Steven and Bernard have lived drastically different lives. The big reason? One is plagued by racism because of his dark skin while the other passes as white. Steven spent his childhood fitting in with fellow classmates and is now a successful attorney. Though he was an extraordinarily bright student who had his eyes on outer space, Bernard's future is as dismal as the Challenger Space Shuttle that once inspired him. As he prepares for trial and potential jail time, Bernard must face his childhood bully behind the judge's bench and confront his brother's advantages. Following his DCPA audience favorite One Night in Miami…, playwright Kemp Powers' piercing meditation on race and privilege targets the circumstances that can change a child's destiny.
Says the playwright: "This really happens through a wonder of genetics where one twin comes out looking completely black and the other comes out looking completely white. And in the days leading up to the Challenger disaster in 1986, these two brothers had a massive falling out. I wanted to explore how family so often manages to let each other down — with a racial context added. When the Challenger exploded, every schoolkid in America was watching live on television because Christa McAuliffe was the first schoolteacher to go into space, and that launch was supposed to symbolize where we were going as a society. Ultimately, this is a play about bullying and the issue of nature vs. nurture."
Bernard "Bear" Gentry: Tobie Windham
Steven "Sevvy" Gentry: Allen E. Read
Joseph "Joey" Martinelli: Bradley Fleischer
Mr. B: Brian Shea
Migdalia: Natalie Camunas
Rich: Quinn Marchman
Summer: Anastasia Davidson
Stage Directions: Joelle Montoya
---
Celia, A Slave
By Barbara Seyda
Directed by Nataki Garrett
Dramaturgy by Sydne Mahone
Stage Manager: Heidi Echtenkamp
Stage Management Apprentice: Molly Becerra
In 1855, 19-year-old African-American slave Celia was convicted of killing her master and hanged. Her story became known as a notorious failure of justice in American history, but to truly understand its significance, look to the people of Calloway County who experienced it all. Using oral histories and official records as her guide, playwright Barbara Seyda investigates the event with a tapestry of interviews with the dead. This stunningly evocative play illuminates the brutal realities of female slave life in the pre-Civil War South as it resurrects a panorama of real people on stage. The piece won the Yale Drama Series playwriting competition.
Says the playwright: "One of my structural prototypes was Fires in the Mirror, which was Anna Deavere Smith's response to the Crown Heights riot that took place in Brooklyn in 1991. She does this amazing integration of performance and public ritual and journalism, using the stage as a portal of truth. My themes include systemic racism and slave litigation."
Jingo: Cajardo Lindsey
Ulysses a.k.a. Uncle Pee Wee: donnie l. betts
George : Jacob Gibson
Justice Abiel Leonard / John Jameson: Gareth Saxe
Polly Newsom / Virginia Waynescot: Emily Van Fleet
David Newsom / Dr. Hockley Yong / Benjamin Sheets / Felix Bartey: Jake Horowitz
Viola / Solace: Nija Okoro
William Powell / Judge William Augustus Hall / Higgler: Steven Cole Hughes
Mildred Louisa Rollins: Billie McBride
Bethena / Euphrates: Jada Dixon
Celia: Celeste M. Cooper
Vine: Tihun Hann
Matt: Owen Zitek
Coffee Waynescot: Tristan Champion Regini
Aunt Winnie / Stage Directions: Erin Willis
John Moore was named one of the 12 most influential theater critics in the U.S. by American Theatre Magazine in 2011. He has since taken a groundbreaking position as the Denver Center's Senior Arts Journalist.

The 13th Annual Colorado New Play Summit
Launch Weekend: Feb. 17-18
Festival Weekend: Feb. 23-25
More details: denvercenter.org/summit
Previous NewsCenter coverage of the 2018 Colorado New Play Summit
2018 Colorado New Play Summit selections announced
Authentic voices: DCPA Education names 2018 student playwriting finalists
https://www.denvercenter.org/wp-content/uploads/2018/04/featured-image-5850.jpg
427
640
John Moore
John Moore
2018-02-13 23:21:00
2018-06-15 09:17:26
Summit prep begins at the intersection of Eugene O'Neill and Metallica