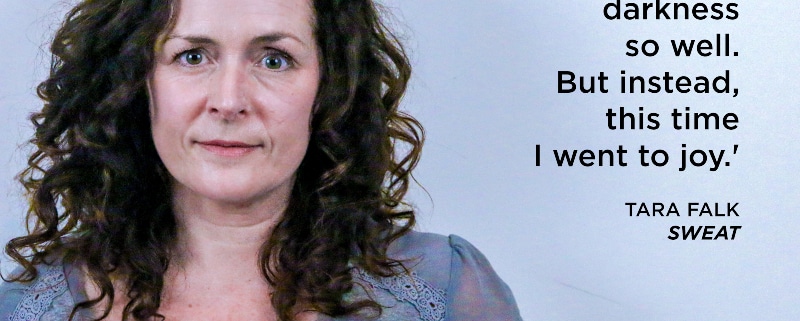 Tara Falk: 'I turned my cancer into the most positive thing in the world'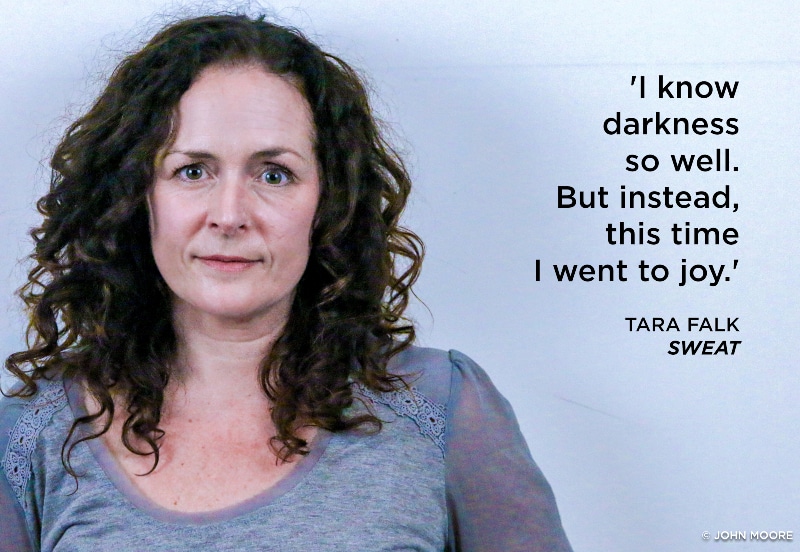 Actor began work on new play less than three weeks after reconstructive facial surgery
Denver actor Tara Falk is made from tough Boston stock. "I feel like I've been a fighter since the day I was born," she said. "So I have approached everything that way."
So when she got some of the worst news of her life, you'd expect her to be the type to armor up and punch that news square in the face. But instead of lashing out, Falk dropped her defenses and let love in.
"I know darkness so well," the Broadway veteran said. "But instead, this time, I went to joy.
"I turned my cancer into the most positive thing in the world."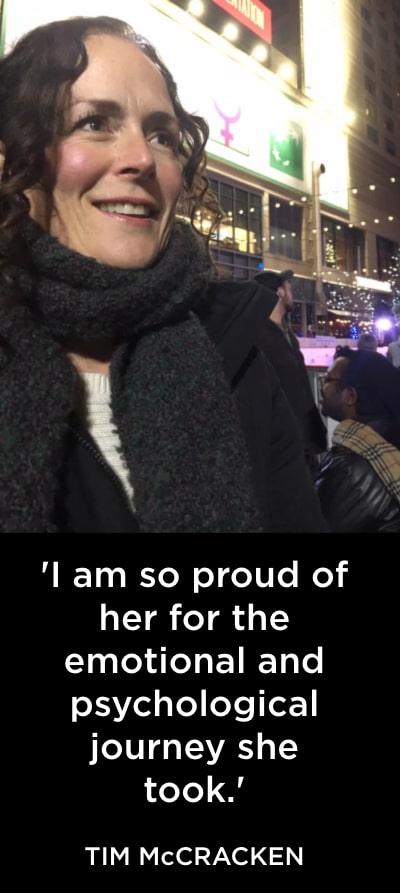 An unsolved mystery
Off and on, Falk went through a relentless series of unexplainable autoimmune issues for two years. A giant rash formed on her face and neck. She felt numbness in her chin and knees. "I looked like a broiled lobster," she says with a laugh. After she was cleared of big, scary potential causes such as Multiple Sclerosis and lupus, it was suggested that perhaps her system was screaming at her from the inside to just slow down. Breathe.
Sure. Try telling a driven mother, teacher and full-time advocate for elders and at-risk youth to just … slow down and breathe.
"I don't slow down," said Falk, who was cast back in September to play a savage widow in the DCPA Theatre Company's season-ending play Sweat, which has its first performance April 26.
In November, Falk was going about her busy life, including her job taking incarcerated youth and kids group homes and orphanages to visit elders with dementia and Alzheimer's. When she stopped just long enough to meet with a new dermatologist about her rash, she was in for a brutal surprise. "She told me, 'Let's forget about what's on your face and talk instead about that massive, cancerous tumor on your nose,' " said Falk, who could see a rash, but not a tumor.
An invasive biopsy revealed that Falk has infiltrative basal cell carcinoma, the most common and, in many cases, least observable of malignant skin tumors. Because it's not so much what's happening on the skin as under the skin.
"I had a teeny-tiny dot of what I thought was a super-sexy mole that had fallen off," Falk said. "It had been there for years. When it flakes, it just looks like dry skin. But underneath, its tentacles are growing. And this one had grown to the size of a penny, maybe more."
That doctor couldn't say how far the cancer had already traveled. It could have covered her nose and gone up into her cheek and forehead by then. Falk asked if they would have to take part or even all of her nose, but the dermatologist couldn't guarantee anything.
The only way for doctors to know for sure was "by burrowing into my face," Falk said. But she would have to wait two months for the surgery and reconstruction – leaving just 2½ weeks before rehearsals for Sweat were scheduled to begin. Falk was told to expect "a very large disfiguration."
The fear was immediate and intense. "I went to a really, really, really negative place at first," said Falk, who already had a big scab on her nose from the biopsy. "The truth is, in my head I've always felt like a monster, for many reasons," she said, "only my scars were scars on the inside. Now they are on the outside. I thought, 'Oh, you are a monster – and you look like one now.' "
Sweat opens rehearsals: Talking about a De-Industrial Revolution
But Falk, ever the fighter, fought against her cynical instincts this time. Then again, she added, "I'm married to the most positive person in the world."
That would be DCPA Education Head of Acting Tim McCracken.
"We knew this had the potential to have a profound impact on Tara's life, which was scary for all of us," said McCracken. "On the flip side, we said to ourselves, 'At least we know it's not terminal. We know many people who are going through far worse things right now. So we took stock and said to ourselves, 'Dammit, we're freaking fortunate.' "
Falk embraced a completely holistic and meditative approach to the months ahead. For the first time in her life, she said, "I am practicing 100 percent self-love."
That launched Falk on what McCracken calls "an amazing journey of self-reflection that really set her up to be mentally ready for the surgery. I don't know if she could have been more ready."
The holidays could have been a minefield of anxiety for the McCrackens and their 10-year-old son, Conlan. Instead, Falk said, "I was super joyful." But the start of Sweat loomed so soon after her scheduled surgery, Falk began to have doubts about whether she would be up for it. Falk is an accomplished actor who has performed three times on Broadway and twice for Denver's Curious Theatre. Sweat would be her long-awaited Denver Center debut. But she gave serious thought to dropping out, simply because no one knew what the surgery would find – and if it was bad, she didn't want to leave the show in a lurch. McCracken advised his wife to give herself permission to believe that she could do it. "So she focused all of her positive energy on that," he said.
Life-altering, life-affirming surgery
The thing that is most scary about Falk's type of cancer is that you don't know how deep it goes until you literally start shaving it off. "You shave a layer, then wait for 45 minutes, then test it," McCracken said. "If you didn't get all of the cancer, then you have to shave again. And you keep shaving until it's completely clear on all sides."
The surgery finally happened on March 5 at the Anschutz Cancer Pavilion and Medical Center. The tumor was, indeed, large and deep, but the surgery proved that the cancer had not spread as far as they thought it might. The reconstructive surgery two days later fixed the hole in Falk's nose, but left a scar that ran up to her left eyeball. And she had sutures in her ear where cartilage was removed to rebuild Falk's nose.
"The reconstruction was really awful," she said. "I looked like Frankenstein and Quasimodo in one." But the good news was her face was essentially intact. She was found to be 100 percent cancer-free, although her dermatologist discovered another pre-cancerous spot on her cheek and a suspect spot on her lip that might have gone undetected for years. She could do the play. All reasons to be joyful.
At the first rehearsal for Sweat on March 26, Director Rose Riordan said to the cast: "Before we start, if anybody has any thoughts about the play or wants to talk about challenges you might be having, fears, anything – just throw it on the table." And so Falk told them: "I just had my nose reconstructed from pieces of my ear. Smiling literally hurts right now. I feel like my face might burst open at any time."
And everyone in that room, then filled almost entirely with strangers, "was on me like love-suckers," she said. "I feel so supported and so loved in this process. It's extraordinary."
Riordan runs her rehearsals unlike any director Falk has had before. She engages the actors in daily, camaraderie-building creative-dramatics exercises that end with a "line-through" of the script – while all the actors are blindfolded.
"She works from the inside out," Falk said. "She creates connective tissue between human beings."
Falk believes her medical odyssey has opened her up to the vulnerability that is required of this play and its process.
"As an artist, you think: 'I can use my pain for my acting.' But I know now that art should come from a joyful place, period, or you will go down hard. In Sweat, I play a character who is hard to like. But I have decided to play her from a specific place of joy in myself. The reason I became an artist in the first place is because I want people to be empathetic. And this play is all about empathy."
Sweat, which won the Pulitzer Prize for Drama in 2017, is set between 2000-08. It follows a group of Pennsylvania steelworkers who like to decompress at a local bar after work. But with rumors flying that the company is considering layoffs, the play delves into currently relevant issues of the economy, immigration and race. Falk's character is Tracey, a hard-boiled 45-year-old whose family has worked at the plant for several generations, including now her son. It's a character study, not a play that takes political sides.
"People should come and see this play because [playwright] Lynn Nottage lives by the phrase, 'Replace judgment with curiosity,' " Falk said. "That's it. And even though my character does something horrific, she is a human being – a really intense human filled with pain. I hope people walk away seeing themselves in every single one of those characters."
Looking toward the future
For the first time since she first heard the word cancer, Falk is again looking toward the future. Her type of carcinomas have a high recurrence rate, so she will have to remain forever vigilant with her skin. But she is looking forward to again working as a DCPA Education Teaching Artist this summer when she leads a scene-study class on the works of Sarah Ruhl.
She will be ready for it.
"I'm so (bleeping) proud of myself," she said. "I'm proud that I didn't go to the dark place that I know so well. The one thing through all of this that has smacked me upside the soul is that I've had to truly love myself. It's the final step to healing. I am on a mission now; a slow one, a deep one, a steady, truthful and humble one. And I am so grateful."
Even to her cancer.
"I kept saying to my tumor, and I believe it truly: 'Thank you. You've served your purpose. … And you can go now.' "
John Moore was named one of the 12 most influential theater critics in the U.S. by American Theatre Magazine in 2011. He has since taken a groundbreaking position as the Denver Center's Senior Arts Journalist.
More about Tara Falk
Tara Falk, a native of Gloucester, Massachusetts, has appeared on Broadway in Metamorphoses, The Constant Wife and Enchanted April; and Off-Broadway in This Is Our Youth and There's the Story. In Denver she has appeared in the Curious Theatre Company's Hand to God and Time Stands Still; as well as Senior Housing Options' On Golden Pond at the Barth Hotel. Regionally, she has appeared at the Hartford Stage, Long Wharf Theater, McCarter Theater, St. Louis Repertory, Cincinnati Playhouse in the Park, Cleveland Playhouse, Pioneer Theater, Alabama Shakespeare Festival and more. She has been seen on television in "The Black Donnellys," "Guiding Light," "As the World Turns" Falk is a Teaching Artist for DCPA Education and spent last year teaching playwriting to teenage girls with Girls' Write at Girls Athletic Leadership School through The Athena Project. She received her BFA from Boston University College of Fine Arts and studied at the British American Dramatic Academy.
Sweat: Ticket information
The play at a glance: For the people of poverty-stricken Reading, Pennsylvania, work is much more than a paycheck – it's the glue that has held the town together for generations. The floor of their central factory is where lifelong friendships are made, where love blossoms and where family members work side-by-side. But as layoffs become the new norm and a cheaper workforce threatens the viability of the local union, the threads that once kept the community together begin to fray. Using warm humor and deep empathy, Nottage paints a moving portrait of today's working-class America in decline.
Written by: Lynn Nottage
Director: Rose Riordan
Dates: April 26-May 26, 2019 (Opens May 3)
Where: Space Theatre
Genre: Working-class drama

Tickets: Start at $30 and can be purchased at 303-893-4100 or in person in the Helen Bonfils Theatre Complex at 14th and Curtis streets or online by clicking here:

Photo gallery: The making of Sweat
https://www.denvercenter.org/wp-content/uploads/2019/04/New-Tara-Falk-quote-800.jpg
552
800
John Moore
John Moore
2019-04-16 20:40:40
2019-04-17 18:48:24
Tara Falk: 'I turned my cancer into the most positive thing in the world'