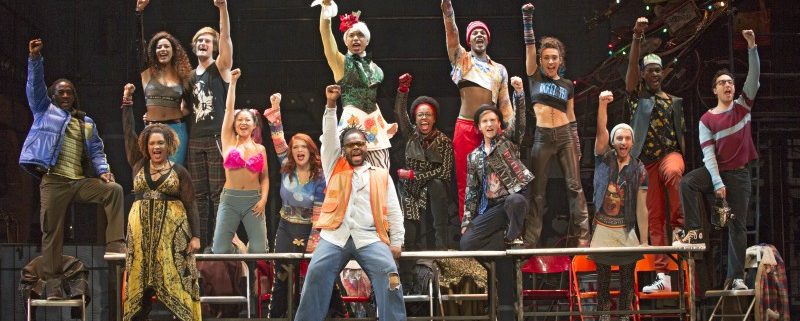 The 20th Anniversary Tour of 'RENT' visits the Buell Theatre from Nov. 14-21. Photo by Carol Rosegg.
When we think of RENT, we think of the '90s. Yet it hasn't become a period piece. Audiences are still coming.
By Dan Sullivan
For the DCPA NewsCenter
Musicals are time capsules. Oklahoma! recalls what we were fighting for in '43; Hair shows what we were fighting for in '67; A Chorus Line mirrors the anxieties of the '70s; The Phantom of the Opera captures the gilded '80s.
When we think of RENT, we think of the '90s. Yet it hasn't become a period piece. The music still sounds like today and the story sounds like a storm warning. The burning question, "How we gonna pay the rent?" echoes the not too distant past.
It was a question that was true of New York in the '90s and one that Jonathan Larson, RENT's young composer-lyricist, often asked himself while waiting on tables in SoHo. When somebody proposed he write a campy uptown version of La Bohème, Larson decided instead to set it in the East Village and to take his characters as seriously as Puccini had.
The result was the megahit that every Broadway composer dreams of. Tragically, Larson died of an aortic aneurysm just before previews were to begin, as severe a shock as Kevin McCollum, RENT's co-producer, ever hopes to sustain.
"Jonathan's death was a tragedy," McCollum said. "But it's a mistake to see him as a character in his own story. It never occurred to him that he wasn't going to be the new voice in the American musical theatre."
Like La Bohème, Rent concerns a band of would-be superstars, not all of them geniuses, toughing out the winter in an unheated loft in the East Village. As members of Generation X, they speak the musical language they were brought up on: rock, pop, soul, salsa, disco, country.
Although hard to track, their adventures on Avenue B are both exuberant and alarming. And Rent shows why today's parents agonize even more than their parents did when a child takes off to a roach-ridden apartment in the big city in order to "find out who I am."
"Can't you do that around here?" Mom and Dad want to say. Instead they murmur, "Don't forget to call." Which the kid never does. So the parents do, and get voicemail.
Mom's fake-cheery voice from Scarsdale gets a laugh in RENT, but not a mean one: Larson, a White Plains boy, shares her concern. La vie bohème on Avenue B is hard-core and high-risk. Where Hair once glossed over the penalties of freaking out, Rent deals with them. A music video for "the life," it's not.
Human, it is. One's heart goes out to Mimi, the clueless cat-dancer, and to Roger, the out-of-tune guitarist, struggling to come up with his one great song (which keeps turning into Musetta's waltz from Bohème).
Yet hope keeps breaking in. Plus a certain amount of self-dramatization. (I said these were young people.) And true love, of course. (I said it was an American musical.) And a terrific score.
RENT may not have been the first big step that the rock musical had taken since Hair — we can't forget Jesus Christ Superstar — but it was the most propulsive musical to surface in a long while, fired not only by the energy of the young, but by their desperate need to make their lives happen before they ran out of time.
The intensity of the emotion does not swamp the ship. "Mindless," the usual synonym for rock musicals, won't work for this one. If Larson's tunes sound like the Top 40 fare his kids grew up on, he wrote them as a theatre composer, with careful attention to character and situation. Meanwhile his lyrics have an ironic edge that keeps the show from whining.
"Jonathan did write a song about what victims his characters were; he took it out," said McCollum, whose partner, Jeffrey Seller, had been tracking Larson's career. RENT's first workshop in '93 hadn't knocked Seller out. The next winter, Seller said to McCollum: "Remember that thing I saw a year ago? They're doing another workshop tonight."
McCollum wasn't interested.
"I'd been doing deals all day and just wanted to go home and read a book. But Jeffrey says it'll be good for me to go out. We walk into the New York Theatre Workshop. We see this huge stage with three metal tables set up. Jeffrey says, 'This is either gonna be brilliant or a total mess.'
"The show starts; I don't know what's going on. A girl called Mimi comes out and sings, 'Light my candle' and I start to cry. And the next song, and the next, and it's some of the best writing I've ever heard. At the end of the first act I turn to Jeffrey and say, 'Get out the checkbook.' "
It wasn't that simple, of course. It got very complicated after Larson's sudden death just as the show started previews in the winter of 1996. It left McCollum and Seller with an unfinished show. Larson's score was amazing, his characters alive, but the story still needed sorting out.
A solution was proposed: Incorporate Larson's stage directions into the dialogue. The device helped to clarify what the characters wanted — not perfectly, but well enough — and McCollum wasn't about to apologize for it.
"We didn't change Jonathan's show. We made it clearer by using the clues he left us. We didn't go with the cliché, 'What would Jonathan have wanted?' He would have wanted people to come to his musical."
Thousands of performances later, they're still coming.
The RENT 20th Anniversary Tour visits the Buell Theatre in Denver from Nov. 14-21.
Dan Sullivan directed the Eugene O'Neill Theater Center's National Critics Institute and reviewed for the Los Angeles Times.
RENT: 20th Anniversary Tour: Ticket information
At a glance: This Pulitzer Prize and Tony Award-winning masterpiece returns to the stage in a vibrant 20th anniversary touring production. With its inspiring message of joy and hope in the face of fear, this timeless celebration of friendship and creativity reminds us to measure our lives with the only thing that truly matters.
National touring production
Performances Dec. 19-31
Buell Theatre, Denver Performing Arts Complex
Tickets start at $25
Call 303-893-4100 or BUY ONLINE
Sales to groups of 10 or more click here
Jasmine Easler, left, and Lyndie Moe. Photo by Carol Rosegg.
https://www.denvercenter.org/wp-content/uploads/2018/04/featured-image-5613.jpg
415
800
John Moore, Senior Arts Journalist
John Moore, Senior Arts Journalist
2017-11-09 13:27:00
2017-11-09 13:27:00
Two decades later, 'RENT' still comes in on time