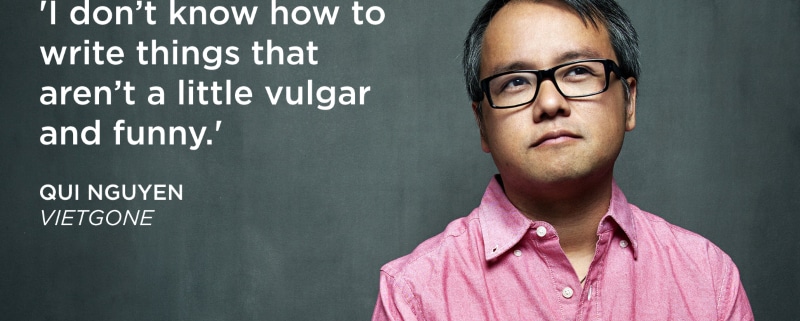 'Vietgone': Not just another war story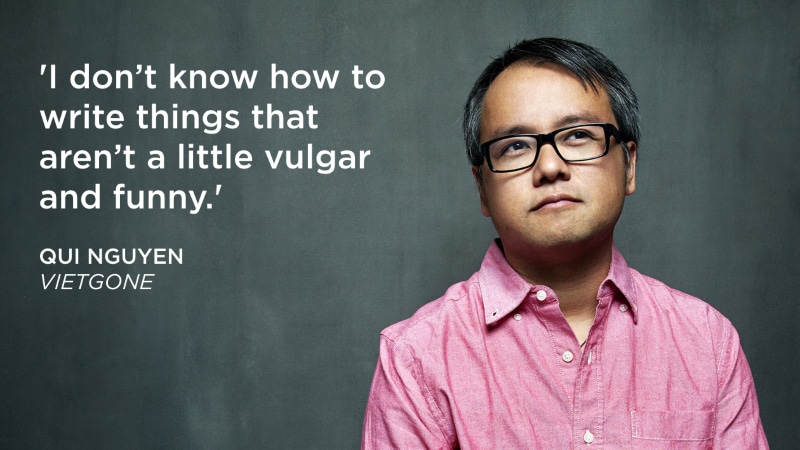 "This is a story about two people —

Both from Vietnam —

Both 30 years of age —

Both survivors of a conflict that's been raging in some form or fashion their entire lives —

However, though it will be a story that will often hop back and forth in time — in and around said conflict — this is not a story about war — it's a story about falling in love. 

And it all takes place in the year of 1975."

— Qui Nguyen, The Playwright, Vietgone

That's how playwright Qui Nguyen sums up the story at the heart of Vietgone. He says it himself — as a character in the play — during Vietgone's prologue, and it seems completely appropriate that the playwright appears onstage to share this with his audience. After all, Vietgone tells a personal story for Nguyen — that of his parents' courtship.
The play begins as Tong Thi Tran and Quang Nguyen, two Vietnamese refugees who have never met, arrive at the Fort Chaffee refugee camp in western Arkansas. Both escaped Saigon days before it fell, and both have left behind loved ones. Tong, who worked for the American Embassy in Saigon, arrives in the US with her mother, Huong. Although Khue, Tong's brother, and Giai, the man who hopes to marry her, remain in Saigon, Tong is ready to embrace America as her home now. Huong, however, is not.
Like Huong, Quang hopes to return to Vietnam. As a pilot in the South Vietnamese air force, Quang airlifted refugees out of Saigon by helicopter during the city's evacuation and, in doing so, found himself on the way to the US without his wife and his two young children. Quang is now in America with his best friend Nhan, but he's determined to return to his family.
When Tong and Quang finally meet, the attraction between them is undeniable. And although neither is looking for a relationship, they begin sleeping together. But as their casual sex stirs up romantic feelings, life for Tong and Quang suddenly becomes even more complicated.
Vietgone is an atypical love story not only because of the central characters' situation, but also because of the way in which the playwright brings the story to life using his irreverent and thoroughly original aesthetic. When describing the play's style, Nguyen says, "It's as influenced by Quentin Tarantino as it is influenced by David Henry Hwang as it is influenced by Jay-Z."
For those unfamiliar with Nguyen's work, it might be difficult to imagine successfully blending those three influences. But the playwright has been mashing together his artistic interests — such as comic book stories, samurai stories, science fiction stories and hip hop — for much of his career and is now well-practiced at pulling from multiple genres and weaving them together in his plays. And with titles like Soul Samurai, Alice in Slasherland and She Kills Monsters, it's no surprise that most of Nguyen's productions come alive with the use of extended onstage combat, tongue-in-cheek humor, profanity-laden dialogue and outrageous plot twists. In fact, many theatre tastemakers credit Nguyen and his company, Vampire Cowboys, where a number of the playwright's productions have premiered, as pioneering a new theatrical genre called "Geek Theatre."
Go to our full photo gallery of the making of Vietgone in Denver
While Vietgone contains many of the trappings of Nguyen's other plays (even ninjas make a cameo), it sets itself apart from much of the playwright's other work with the very personal story at its center. Although Nguyen's first play, Trial by Water, recounted his cousin's tragic escape from Vietnam by boat in the late 1980s, the playwright was still searching to find his voice at the time of its premiere. After seeing a performance, Nguyen's mother commented that the play "didn't sound like [him]," which the playwright says was one of the most impactful notes he has ever received. In 2011, finally armed with his well-established style, Nguyen returned to the topic of his cousin's journey in The Inexplicable Redemption of Agent G. Now, with Vietgone, Nguyen adds another personal play to his canon, and it's only the beginning: the playwright is currently working on a pentalogy of plays about his parents' marriage.
"I don't know how to write things that aren't a little vulgar and funny," says Nguyen. Perhaps that's why Vietgone is more sex comedy than traditional love story, and the play's anachronistic and foul-mouthed dialogue feels completely natural. But Vietgone's irreverence gives its characters, who come from an underrepresented community on the American stage, agency to be more than victims of a war and therefore relatability to younger generations. As Nguyen points out: "I think it's really important to see depictions of yourself, people that look like yourself … in a strong way, in a sexually powerful way."
But underneath the sexuality, the anachronisms and the kung fu battles is a simple story about falling in love in a complicated situation; that, as the playwright points out in the prologue, is at the heart of Vietgone. However, it's still a Qui Nguyen play, so there's plenty of action along the way to test the power of that love — and to show an audience how much it really counts.
Douglas Langworthy is the DCPA Theatre Company's Literary Manager and Director of New Play Development. He can be reached at dlangworthy@dcpa.org
Vietgone:

Ticket information



Vietgone is an ode to the real-life courtship of Playwright Qui Nguyen's parents. Forced to leave their country during the height of the Vietnam War, two refugees find themselves at the same relocation camp in Arkansas – the land of Harleys and hot dogs. Before they find their way into each other's arms, they'll have to blaze a trail in their weird new world and leave behind the baggage they didn't pack.
https://www.denvercenter.org/wp-content/uploads/2018/08/Qui-Nguyen-Quote-800.jpg
450
800
Douglas Langworthy
Douglas Langworthy
2018-08-06 10:46:48
2018-08-20 11:15:53
'Vietgone': Not just another war story