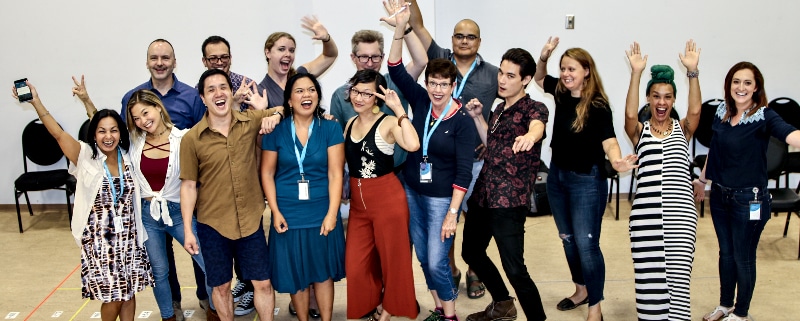 What is 'Vietgone'? Above all, 'a heart-expanding love story'
Vietgone is quirky, unconventional and even Brechtian. But what makes it most remarkable are its two uncommon protagonists.
1. The celebrated new play Vietgone has been described all sorts of ways, from a "riotous theatrical cartoon" to a "pop-culture dramedy." On the first day of rehearsal for the first production of the DCPA Theatre Company's upcoming 40th anniversary season, Director Seema Sueko called it "a hip-hop Brechtian fable."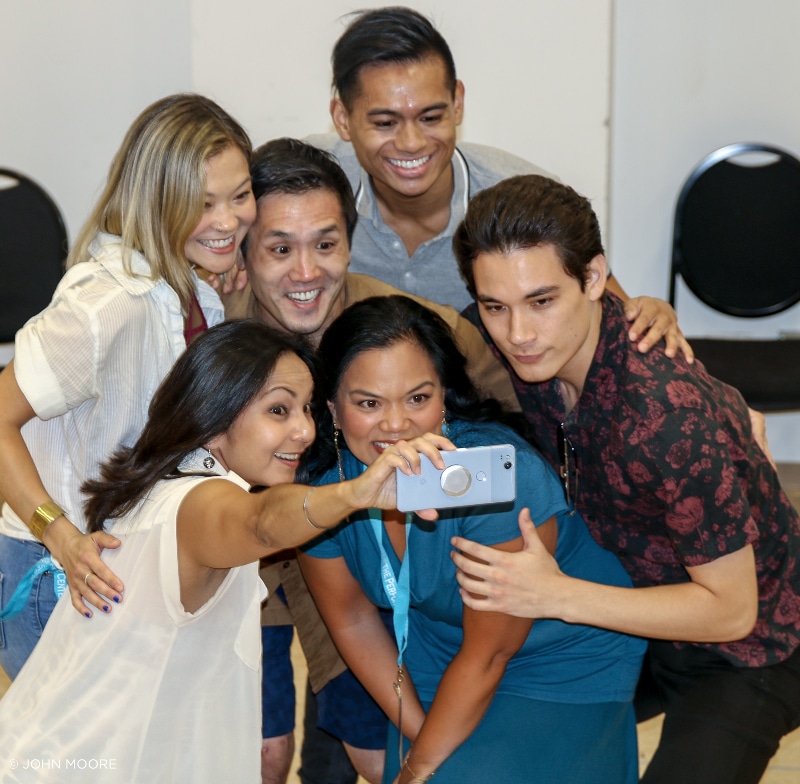 For those without immediate access to Wikipedia: Brechtian theatre recalls German poet Bertolt Brecht (Mother Courage and Her Children), who nearly a century ago was the main proponent of a revolutionary new genre called "epic theatre," which essentially never lets the audience forget it is watching a performance. In other words, something not real.
Qui Nguyen's free-wheeling rebel play with a proudly short attention span tells how his parents met at an Arkansas refugee camp in 1975.
"Qui uses all of the traditional elements of a Brechtian play in Vietgone," said Sueko, also the Deputy Artistic Director at Arena Stage in Washington, D.C. "You've got narration; actors playing multiple roles; episodic and often non-linear storytelling," she said. "But instead of 'Mack the Knife,' Qui has put in what I call "fierce rap." And we're melding those two elements: Fun, surprising and at times aggressive hip-hop with presentational storytelling.
Sueko asked those gathered at first rehearsal to take their own shot at describing the play in one word. Responses included funny, smart, sexy, challenging, moving, surprising and spontaneous. Which is just what she hopes Denver audiences think when performances begin in the Ricketson Theatre on Aug. 24.
Here are four more things we learned at first rehearsal: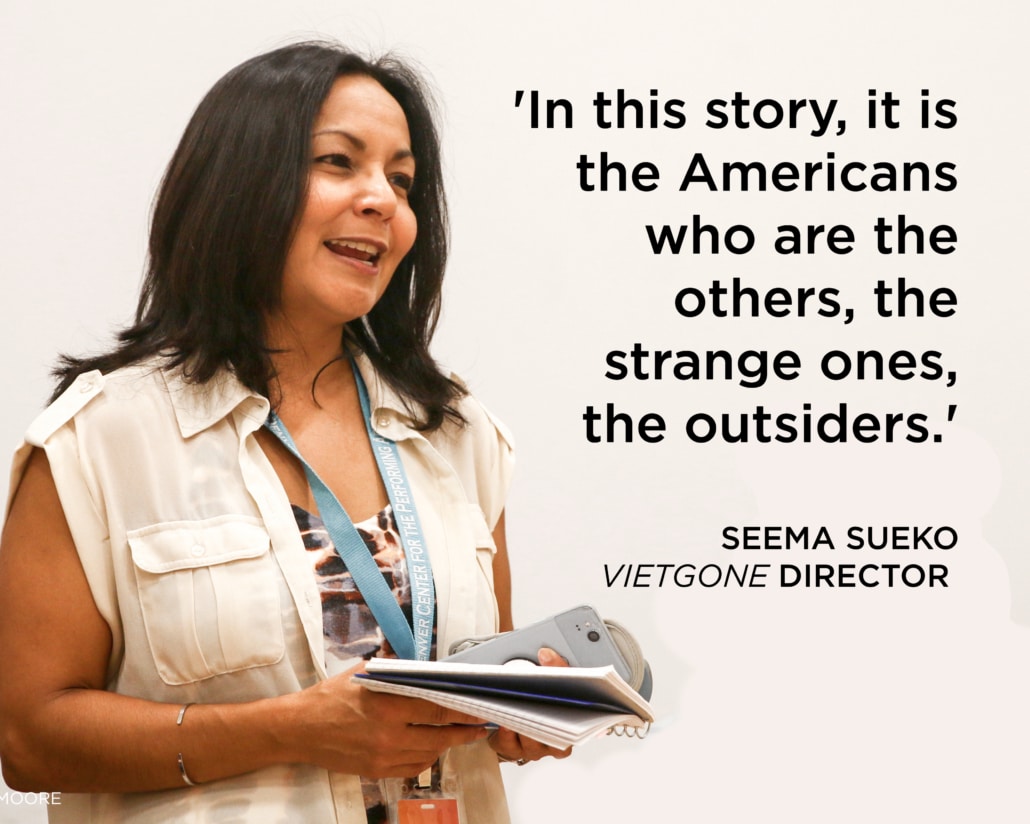 2. Vietgone is, above all, "a heart-expanding, eye-opening love story," Sueko said. But what makes it most remarkable are its two completely unfamiliar protagonists at the center of things. "Qui's parents were two bad [plural human body part redacted] from Vietnam who fled the war and left people behind," Sueko said. "And despite their attempts to resist falling in love with one another, they fall in love. That means in this story, it is the Americans who are the others, the strange ones, the outsiders. These days, words such as 'immigrant' and 'refugee' have been so politicized. This play reminds us that it is all about love. Why would you strive for a better life? Love. What is the only reason to live? Love."
3. Most productions of Vietgone employ the use of an actual motorcycle, and when you see the play, you will know why a big hog is a big part of the storytelling. But the Ricketson Theatre is a small proscenium stage, which, one might say …  "creates opportunities for imagination." And the scenic designer doing the imagining here is Jason Sherwood, who previously created sprawling new worlds for the Denver Center's The Who's Tommy, Frankenstein and The Wild Party, but has never before designed for one of the company's smallest stages. What have Sherwood and Sueko come up with? That, you will have to see for yourself. But if you want a clue, she said, "Google 'imaginary motorcycle.' "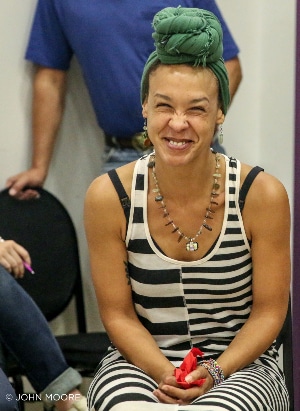 4. Sueko has hired prominent local spoken-word artist Bianca Mikahn to serve as the play's rap consultant. In 2016, Mikahn directed Off-Center's How I Got Over: Journeys in Verse, five celebrated slam poets weaving an interconnected story about womanhood, self-discovery and adversity. As an opening-day icebreaker, Artistic Director Chris Coleman asked the more than 50 gathered to take a cue from the Vietgone playwright's parents and briefly tell the story of where their parents met. Mikahn got plenty of knowing nods when she said her parents met at the former 3.2-beer and dance dynasty After the Gold Rush, off 6th Avenue and Sheridan Boulevard in Lakewood. Among the other guests were Nga Vuong-Sandoval, a Vietnam native who now serves on the city of Denver's Asian-American Pacific Islander Commission and in the Colorado Attorney General's office.
5. As for his take, Coleman said: "This play upends what I thought I know about a critical moment in our country's history. I don't see it coming, and when it happens, it is such a beautiful surprise." Vietgone has its first preview performance on Aug. 24 and officially opens on Aug. 31. It runs through Sept. 30 in the Ricketson.
John Moore was named one of the 12 most influential theater critics in the U.S by American Theatre Magazine in 2011. He has since taken a groundbreaking position as the Denver Center's Senior Arts Journalist.
Vietgone cast:
Melody Butiu (Broadway's Doctor Zhivago) as Ensemble
Jordan De Leon (Drury Lane's 25th Annual Putnam County Spelling Bee) as Ensemble
Brian Lee Huynh (Broadway's War Horse) as Ensemble
Lisa Helmi Johanson (National tour, Avenue Q) as Tong
Glenn Morizio (L.A. Theatre Ensemble's Romeo and Juliet) as Quang
Creative team:
Seema Sueko (Deputy Artistic Director, Arena Stage): Director
Jason Sherwood (DCPA's The Who's Tommy): Scenic Designer
Valérie Thérèse Bart (DCPA's The Great Leap): Costume Designer
Jeanette Oi-Suk Yew (DCPA's Smart People): Lighting Designer
Andre Pluess: Sound Designer
Douglas Langworthy: Dramaturg
Bianca Mikahn: Rap Consultant
Harriet Bass, CSA: Casting
Christopher C. Ewing: Stage manager
Rick Mireles: Assistant Stage Manager
Vietgone:

Ticket information



Vietgone is an ode to the real-life courtship of Playwright Qui Nguyen's parents. Forced to leave their country during the height of the Vietnam War, two refugees find themselves at the same relocation camp in Arkansas – the land of Harleys and hot dogs. Before they find their way into each other's arms, they'll have to blaze a trail in their weird new world and leave behind the baggage they didn't pack.
https://www.denvercenter.org/wp-content/uploads/2018/07/Vietgone-first-rehearsal.-John-Moore.jpg
494
800
John Moore
John Moore
2018-07-30 20:09:26
2018-08-20 11:15:55
What is 'Vietgone'? Above all, 'a heart-expanding love story'