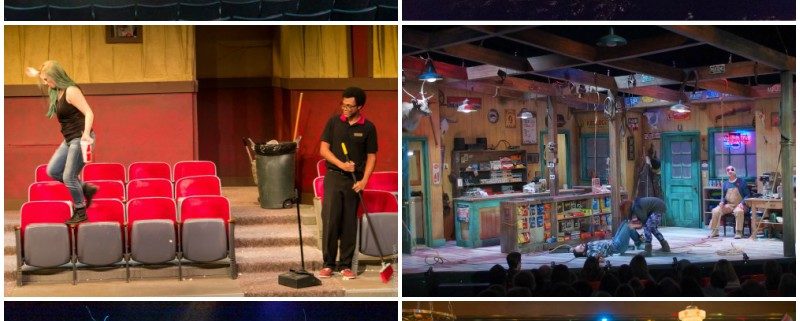 2017 True West Awards: Six set-sational set designs

2017 TRUE WEST AWARDS

Day 22: Six set-sational set designs
Markas Henry, Curious Theatre's Appropriate
Roger Hanna, Bas Bleu Theatre Company's Elephant's Graveyard
Lori Rosedahl, OpenStage's The Flick
Robert Mark Morgan, Creede Repertory Theatre's General Store
Christopher M. Waller, Benchmark Theatre's Smokefall
Jason Sherwood, Off-Center's The Wild Party

By John Moore
Senior Arts Journalist

The magical worlds scenic designers conjur on Colorado stages come in all scopes and budget sizes. And in 2017, the challenges thrown their way were thrillingly varied and exhilaratingly executed. Just by way of example:
Robert Mark Morgan integrated actual panes of slowly melting ice into his set for the DCPA Theatre Company's world-premiere play Two Degrees (pictured right). Eagle eyes might have noticed the ice slowly dripped throughout every performance to subtly reinforce the play's climate-change theme.
Jonathan Scott-McKean dug a 5-foot grave out of a stage that's only about 20 feet wide in Miners Alley Playhouse's A Skull in Connemara.
Buntport Theater's wholly original The Crud was exactly that — A huge pile of cast-off objects, toys and appliances that represented the crud on your floor and the crud in your head and the crud in the world. You know: The crud.
And Brian Mallgrave, who so consistently makes magic at the Arvada Center, somehow devised a way for three actors to splash about on water in the mesmerizing The Drowning Girls even though the stage has no drainage — and the entire set had to be regularly cleared to make room for other plays being performed there in repertory.
And those aren't even the amazing scenic designs we are focusing on today.
The True West Awards are not about "bests," so singling out just one compellingly executed design this year seemed entirely inadequate. So instead, we chose to spotlight six inventions of varying scopes and budget sizes that have just two things in common: The sets are themselves essential characters in all of their stories, and each presented boggling challenges for their creators that begged for playful innovation.
Please don't think of these six as comprehensive. They are meant instead to be representative acknowledgements of all scenic designers bringing new worlds to life throughout the Colorado theatre community:
Curious Theatre's Appropriate:
Scenic Designer: Markas Henry
Playwright: Branden Jacobs-Jenkins
Director: Jamil Jude
The challenge: It's not every day a script's final two pages are entirely instructions for what must happen with the set pieces, lights and sound. The traditional "last word" of the play has been taken out the mouths of actors here and given over instead to Henry, Sound Designer Jason Ducat and Lighting Designer Richard Devin. The story's setting is an old mansion on a now abandoned, hand-me-down ex-slave plantation. And in a dance of technical synergy, we see the literal crumbling of an old way of life disintegrating into the earth.
Markus Henry: "The script calls for a chandelier to crash to the floor, but Jamil wanted to do something that felt a little more final than that. And so, to 'up the ante' a little bit, I came up with the idea that a beam should come down to signify that the house was falling down. It was simple stagecraft involving a rope and pulley, and it was all done manually: No motors and no techno gadgetry. It's an old-school trick. But we thought that would be a fitting metaphor for ushering in a new sense of humanity. Sometimes it's good that things come crashing down."
Jamil Jude: "Markas took on the Herculean task of making a house collapse on itself every night for six weeks. Most would run away from that challenge, but Markas ran to it and kicked its butt."
---

Bas Bleu Theatre Company's Elephant's Graveyard


Scenic Designer: Roger Hanna
Playwright: George Brant
Director: Garrett Ayers
The challenge: The setting of this play is a dirt floor on the grounds of a 1916 circus where witnesses tell us the true tale of the tragic collision between a struggling circus and a tiny town in Tennessee that resulted in the only ever-known lynching of an elephant. And here, that meant covering the stage with 15 metric tons of dirt.
Roger Hanna (who doubled as Lighting Director): "Our biggest challenge was how to make our empty space actually look like an empty space. We achieved that by adding mirrors in the windows and extending walls to make the space closed off. Our production manager naturally wondered if we couldn't just paint the floor brown, rather than shovel in all that dirt. Fortunately, the whole creative team and cast was on board with the dirt, and Jonathan Burns found a way to make it happen. Once the dirt was down, I was concerned with how the actors would know where to stand for each light cue since there's no way to use spike tape on dirt. But that worry proved unfounded. It was really a joyous collaboration from start to finish, thanks to the smart way Garrett, and the company, and the staff, and the volunteers all embraced the style of the show."
---

OpenStage Theatre's The Flick
Scenic Designer: Lori Rosedahl
Director: Sydney Parks Smith
Playwright: Annie Baker
The challenge: The Flick takes place in a dilapidated old movie palace, so it must at once reflect the grandeur of a time gone by, while still making it abundantly clear that time certainly has, in fact, gone by.
Sydney Smith: "Annie Baker deals in realism with everything she does, and we wanted our audiences to be able to really smell the mildew and the rancid popcorn butter. Lori started by building a truly lovely movie theatre that she then tore down and deconstructed to make look like it had existed for enough years to become run down. Then her Set Decorater, Starla Kovar, went in and put fake gum under the seats and actually glued popcorn into the seat corners. She also created old puddles of spilled soda and put stains on the rug that no one could really identify."
---

Creede Repertory Theatre's General Store


Scenic Designer: Robert Mark Morgan
Director: Christy Montour-Larson
Playwright: Brian Watkins
The challenge: There's a monster living under the floorboard of Mike's faltering general store on the Eastern plains of Colorado. It growls. It shakes the foundation. There's a pit, a snapping bear trap, lots of rope and tons of crazy light and sound cues. By the end, this violent confrontation between man and metaphor takes a considerable physical toll on the set. Actor Logan Ernstthal calls General Store "a beautiful beast of a play."
Artistic Director Jessica Jackson: "Rob's designs do everything at once: They tell the story, define a world, and also work beautifully within a repertory season. They embody the transformative, sophisticated, imagination-over-spectacle aspect of rep that defines the Creede Repertory Theatre. What's also great about Rob is that, despite being the smartest guy in the room, he's also the nicest. He's not just there to design a set. He works like a true ensemble member."
---

Benchmark Theatre's Smokefall
Scenic Designer: Christopher M. Waller
Playwright: Noah Haidle
Director: Rachel Rogers
The challenge: Haidle's modest, magical play tells the story of one family that learns, through the course of generations, that life can change in an instant. Changes to the set at intermission must communicate to the audience in one visually visceral moment that many years have gone by in this same house. You know this because there is now an overgrown apple tree whose branches have infiltrated the house from the outside and are now growing freely throughout several rooms. And in this story, that really means something.
Rachel Rogers: "What I love about working with Christopher is his collaborative spirit. One of of my favorite aspects of his Smokefall design is that he gave the kitchen a half wall. That brilliantly helped delineate the house and created a metaphorical nest where the mother at the center of the story continually retreats. His solution for adding the tree into the home after intermission was also inspired, as it continued the theme of magic rather than attempting to be entirely realistic."
---

DCPA Off-Center's The Wild Party:
Scenic Designer: Jason Sherwood
Writers: Michael John LaChiusa and George C. Wolfe
Director: Amanda Berg Wilson
The challenge: The Wild Party was performed environmentally under The Hanger at Stanley Marketplace. Audiences were first led into a vaudeville-style theatre and then invited to join the performers for a party on the other side of the curtain — which was revealed to be a sprawling Jazz Age, New York apartment. Now, the Hangar is 18,500 square feet. But once you put 15 actors, a band and 200 audience members inside the apartment (with furniture for them to sit on), Sherwood was left with mere nooks and crannies that could be used as viable playing spaces. And it was a musical, so, you know — there's dancing. And as a piece of on-site, environmental theatre: The whole thing had to be built from scratch.
Amanda Berg Wilson: "Any time the actors and the audience are all in the same space together, it's a huge challenge for the Scenic Designer. There was nowhere for the actors to perform that was wider than a few feet. But the way Jason did it was brilliant. He really wove these little threads throughout the room so there was never any one obvious place for them to play. Even the aisles were genius. And the way he filled the space and the walls was incredibly detailed. He absolutely ran with the idea that this was a downtown crowd of true bohemians. They were maxilamists, and that was evident in every detail of the set, which Jason saturated with color."

John Moore was named one of the 12 most influential theater critics in the U.S. by American Theatre Magazine in 2011. He has since taken a groundbreaking position as the Denver Center's Senior Arts Journalist.


About The True West Awards: '30 Days, 30 Bouquets'
The True West Awards, now in their 17th year, began as the Denver Post Ovation Awards in 2001. DCPA Senior Arts Journalist John Moore — along with additional voices from around the state — celebrate the entire local theatre community by recognizing 30 achievements from 2017 over 30 days, without categories or nominations. Moore's daily coverage of the DCPA and the Colorado theatre community can be found at MyDenverCenter.Org



A look back at the history of the True West Awards

The 2017 True West Awards
https://www.denvercenter.org/wp-content/uploads/2018/04/featured-image-5509.jpg
834
800
John Moore
John Moore
2017-12-23 10:10:00
2018-06-14 14:08:00
2017 True West Awards: Six set-sational set designs