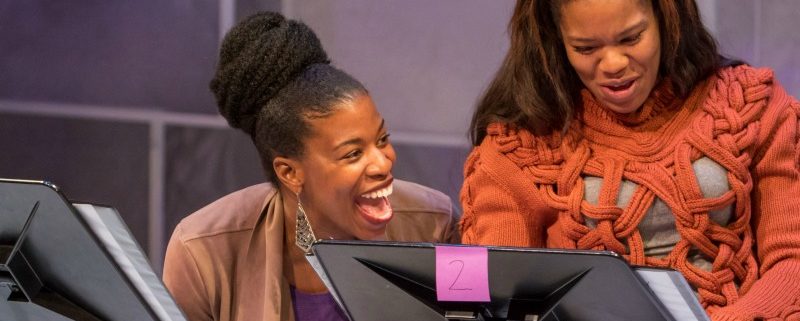 A video look back at the 2017 Colorado New Play Festival in February. Video by David Lenk and John Moore for the DCPA NewsCenter.

DCPA's signature celebration has introduced 53 new plays, over half of which have returned as full productions.
The DCPA Theatre Company's 13th annual Colorado New Play Summit will feature readings of new works by Sigrid Gilmer, David Jacobi, Kemp Powers, and Barbara Seyda alongside world-premiere productions by José Cruz González, Matthew Lopez and Lauren Yee, it was announced this morning.
The Colorado New Play Summit, which return Feb. 17-25, 2018, is the DCPA's signature festival dedicated to supporting playwrights and developing new work. Participating playwrights, including many commissioned by the Theatre Company, are given two weeks with professional directors, actors and dramaturgs to workshop new plays. Industry professionals and the public are invited to experience them as non-staged readings.
(Pictured above and right: 2017 Colorado New Play Summit reading of Donnetta Lavinia Grays' 'Last Night and the Night Before.')
Since its founding, the Summit has introduced 53 new plays, over half of which returned to the stage as full Theatre Company productions. Recent Summit world premieres include Lauren Gunderson's The Book of Will, Tanya Saracho's FADE, Matthew Lopez's The Legend of Georgia McBride, Samuel D. Hunter's The Whale, Theresa Rebeck's The Nest, Marcus Gardley's black odyssey, Karen Zacarias's Just Like Us, Jeffrey Haddow and Neal Hampton's Sense and Sensibility The Musical, and Dick Scanlan's reimagined version of The Unsinkable Molly Brown.
2018 FEATURED NEW-PLAY READINGS:

Mama Metallica
By Sigrid Gilmer

Budding playwright Sterling Milburn has always been overshadowed by her fabulous mother Louise. Even when she's holed up in a care facility with Parkinson's, Louise finds a way to steal the spotlight. But with the overly critical eyes of Eugene O'Neill and Tennessee Williams to fuel her rebellion and the frenetic energy of Metallica to help find her voice, Sterling sets out to write a story that is finally her own. As unfortunate histories mesh with hilarious interludes, Sterling must face the truth: her pain, her joys and her life will forever be shaped by and linked to the woman who raised her. Sigrid Gilmer's "wonderfully impudent sense of humor" (USA Today) shines in this joyfully irreverent black comedy that entwines issues of identity with pop culture icons for a truly unique (and head-banging) experience.
About Sigrid Gilmer: makes black comedies that are historically bent, totally perverse, joyfully irreverent and concerned with issues of identity, pop culture and contemporary American society. Sigrid burst onto the national theatre scene with her play Harry and the Thief, an action film/historical/time travel play about a thief who is blackmailed into traveling back in time to deliver a cache of arms to Harriet Tubman. It has since been produced across the country, including runs at the Pavement Group (Chicago), the Know Theatre (Cincinnati), and the Skylight Theatre (LA). Additional select works include Slavey (Clubbed Thumb), Seed: A Weird Act of Faith, It's All Bueno (Cornerstone Theater Company), Frilly, and White 3: Manifestdestinyland. Sigrid is also on the writing team of the acclaimed Black Women: State of the Union. Sigrid is a winner of the Map Fund Creative Exploration Grant, the James Irving Foundation Fellowship and is a USA Ford Fellow in Theatre. Sigrid has an MFA in Writing for Performance from Cal Arts, where she was mentored by Suzan-Lori Parks. She resides in Los Angeles.
---
The Couches
By David Jacobi
DCPA Theatre Company Commission

Ethan Couch has lived in a bubble of pampered privilege for his entire life, so when he's convicted of killing four people while driving drunk, he and his mother Tonya flee to a resort in Mexico rather than face the consequences. In this self-imposed state of limbo, Ethan pays hotel clerk Daniel $1000 to be his friend and help maintain the facade of his prior life. But as the unlikely pair drink, sing, and stumble through the night, delusions of how the world works melt away as quickly as their cash flow. David Jacobi draws from the infamous 2013 "affluenza" court case to weave a surreal story of recklessness and reflection.


About David Jacobi: His plays have been performed throughout the U.S. and in China, including the Peter Jay Sharp Theater, FringeNYC and Penghao Theatre. His work has been developed at Ojai Playwrights Conference, Portland Center Stage's JAW Festival, RISK IS THIS, Great Plains Theatre Conference, Kennedy Center MFA Playwright's Workshop, SLC Playwrights Lab and PlayPenn. He is a winner of the Holland New Voices Award, Kennedy Center Theatre for Young Audiences Award, a Relentless Award semifinalist, and has been nominated for the Weissburger. David was the 2015 Shank Fellow at Pig Iron Theatre Company, and is currently under commission from the Denver Center and South Coast Rep. He received a BFA in Dramatic Writing from Purchase College and an MFA from UC San Diego.
---

Christa McAuliffe's Eyes Were Blue
By Kemp Powers
DCPA Theatre Company Commission

Even though they share the same DNA, twins Steven and Bernard have lived drastically different lives. The big reason? One is plagued by racism because of his dark skin while the other passes as white. Steven spent his childhood fitting in with fellow classmates and is now a successful attorney. Though he was an extraordinarily bright student who had his eyes on outer space, Bernard's future is as dismal as the Challenger Space Shuttle that once inspired him. As he prepares for trial and potential jail time, Bernard must face his childhood bully behind the judge's bench and confront his brother's advantages. Following his DCPA audience favorite One Night in Miami…, Kemp Powers' piercing meditation on race and privilege targets the circumstances that can change a child's destiny.


About Kemp Powers: His plays include One Night in Miami… (Donmar Warehouse, Denver Center, Baltimore Center Stage, Rogue Machine; 2017 Olivier nominee for Best New Play, three Los Angeles Drama Critics Circle awards, four NAACP Theatre awards, LA Weekly Theater award), Little Black Shadows (South Coast Repertory) and The Two Reds (The Ground Floor at Berkeley Repertory). His work has been developed at Denver Center Theatre Company, South Coast Repertory, Berkeley Repertory Theatre and the Classical Theatre of Harlem. In television and film, he was most recently a writer for "Star Trek: Discovery"(CBS All Access) and is currently adapting his play One Night in Miami… into a feature film. He has toured nationally as a storyteller for the Peabody Award-winning series, "The Moth," and was one of the 50 storytellers selected for publication in their New York Times-bestselling book, The Moth: 50 True Stories (Hyperion Press). Powers is a founding member of The Temblors, a producing playwrights collective based in Los Angeles, where he resides.
---
Celia, A Slave
By Barbara Seyda
In 1855, 19-year-old African-American slave Celia was convicted of killing her master and hanged. Her story became known as a notorious failure of justice in American history, but to truly understand its significance, look to the people of Calloway County who experienced it all. Using oral histories and official records as her guide, playwright Barbara Seyda investigates the event with a tapestry of interviews with the dead. This stunningly evocative play illuminates the brutal realities of female slave life in the pre-Civil War South as it resurrects a panorama of real people on stage. The piece won the Yale Drama Series playwriting competition in its current form.
About Barbara Seyda: She is a playwright, editor, designer and theatre artist. She has a B.S. from the University of Wisconsin-Madison and an MFA from Mason Gross School of Art, Rutgers University. She has been a freelance editor for the Southwest Center, Rio Nuevo Press and the University of Arizona Press with a focus on native art, culture, history, ethnography and oral traditions of the American Southwest. She taught at Pratt Institute, The New School for Social Research, Rutgers University and University of Arizona's Continuing Education Program. Her publications include Nomads of a Desert City (University of Arizona Press) and Women in Love (Bulfinch, imprint of Little, Brown & Company). Her debut play Celia, A Slave was selected by Nicholas Wright, former Associate Director of London's Royal Court and won the Yale Drama Prize in 2015. The first public staged reading was at Lincoln Center under the direction of Niegel Smith and the script was published by Yale University Press in 2016. Celia opened The Rogue Theatre's 2017 season to rave reviews by PBS and NPR. She will reexamine the structure of Celia at the 2018 Colorado New Play Summit. Her new plays include An Unnatural History and Life in a Jar.
---
2018 WORLD PREMIERE PLAYS:
American Mariachi
By José Cruz González
Directed by James Vásquez
Produced in association with The Old Globe

DCPA Theatre Company Commission developed at the 2016 Colorado New Play Summit
Lucha and Boli are ready to start their own all-female mariachi band, but they'll have to fight a male-dominated music genre and pressure from their families to get it done. This humorous, heartwarming story about music's power to heal and connect includes gorgeous live mariachi music.
Zoey's Perfect Wedding
By Matthew Lopez
Directed by Mike Donahue

Disaster after disaster follow one unfortunate bride down the aisle, from brutally honest boozy speeches to a totally incompetent wedding planner. Watch in awe as this wildly funny fiasco destroys her expectations with the realities of commitment, fidelity and growing up.
The Great Leap
By Lauren Yee
Directed by Eric Ting
Produced in association with Seattle Repertory Theatre

DCPA Theatre Company Commission developed at the 2017 Colorado New Play Summit
When an American college basketball team travels to Beijing for an exhibition game in 1989, the drama on the court goes deeper than the strain between their countries. Tensions rise right up to the final buzzer as history collides with the action in the stadium.
The 13th Annual Colorado New Play Summit
Launch Weekend: Feb. 17-18
Festival Weekend: Feb. 23-25
More details: denvercenter.org/summit
All-inclusive Festival Weekend packages including all four readings, three world premieres, plus meals and special events are on sale now. Launch weekend events will go on sale in January 2018.
Full photo gallery from the 2017 Colorado New Play Festival in February. To see more, click on the image above. Photos by John Moore for the DCPA NewsCenter.
Bonus video coverage: Meet the 2017 featured playwrights:
Summit Spotlight video: Lauren Gunderson, The Book of Will
Summit Spotlight video: José Cruz González, American Mariachi
Summit Spotlight Video: Tira Palmquist, Two Degrees
Summit Spotlight Video: Mat Smart, Midwinter
https://www.denvercenter.org/wp-content/uploads/2018/04/featured-image-5581.jpg
533
800
John Moore, Senior Arts Journalist
John Moore, Senior Arts Journalist
2017-11-29 12:05:00
2018-06-14 13:43:23
2018 Colorado New Play Summit selections announced