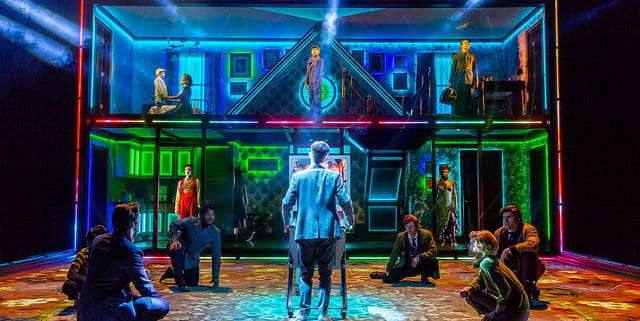 Andy Mientus: That deaf, dumb and blind kid is anyone who's been marginalized
Stage and TV star sees Tommy as a traumatized boy who is 'looking at his life through the wrong end of the telescope'
The Who's Tommy is a rock opera that tells the sad story of a traumatized little boy who's beaten, exploited and molested — and comes out of it a madly adored pop star. But while to some Tommy's operatic ordeal might sound a tad close to a tilt (to use pinball parlance), it all feels very real to actor Andy Mientus.
"I think Tommy becomes a stand-in for anybody who feels marginalized in any way — anyone who isn't seen or heard or felt or touched," said Mientus, who plays the adored and idolized and ultimately discarded Tommy in the DCPA Theatre Company's acclaimed new production playing through May 27 in The Stage Theatre.
"When we get to see how that kind of upbringing affects him into adulthood, I think that's something a lot of people can relate to," said Mientus, who has starred on Broadway in Spring Awakening and Les Misérables, and had a featured role on NBC's "Smash."
"It's definitely something I can relate to: That feeling of being an 'other' in your own community. Feeling you're the one who doesn't quite fit in, or you're the one people don't see. That definitely speaks to me."
Director Sam Buntrock said Mientus fundamentally understands the fame aspect of Tommy's story from his own experiences with celebrity.
"I think what Andy brings — and I mean this as the utmost compliment —  is a simplicity and an innocence, but without being childlike," Buntrock said. "His Tommy is very clear and very charismatic. But also, when Tommy has experienced the effects of being famous, Andy is playing that with an honesty and a brutality that's really, really arresting. And it's real."
Mientus has had a remarkable but indirect ascent in his performing career, having risen from a Spring Awakening groupie in Michigan to having a featured role on "Smash."
"My story really goes to show that there is no set path," he said with a laugh. (More on that path below.)
"As somebody who has been trying to make a living in performing arts for almost 10 years now, yes, it is very true that people are quick to lift an artist up, and quick to forget them and drop them," he said. "That's the fickle nature of that fame. When finally you are heard and seen by masses of people, it becomes an addiction. It becomes a drug. And it can lead to some really destructive behavior. And then what happens when those people go away? That's definitely something that I continue to feel."
Here are more excerpts from Andy Mientus' conversation with Senior Arts Journalist John Moore:    
John Moore: I'm guessing you have one of the most mispronounced names in show business.
Andy Mientus: I do. Mee-en-tas. It's weird because it's not an actual name from an actual cultural heritage. There are a lot of consonants in our family name, and when my ancestors got to Ellis Island they kind of hacked it in half. So no one knows where to place its origin.
John Moore: And where does it actually come from?
Andy Mientus: It's Polish. So it had lots of Cs, and Zs and other excitement in there. And now … it doesn't.
John Moore: Tell us when we have seen you before in Denver.
Andy Mientus: I was here in 2009 doing the first national tour of Spring Awakening at the Buell Theatre. I remember that it was the dead of winter, so I didn't get to see much of Denver. I'm very happy to be back and able to explore.
John Moore: What was it about this show, this production and this director that made you want to come to Denver to do this?
Andy Mientus: Tommy is definitely a bucket-list show and role for me. I really didn't grow up in a household where we listened to a lot of musicals. But our house was filled with music. There were always classic rock albums playing, soul records, country. So I grew up with "Tommy," the album. I loved the tunes, and my family loved the tunes. It's one of the things that bonded us. That's one reason I've always wanted to play the role. But also because this genre of music is more my actual wheelhouse than some of the things I've done in my musical-theatre career. This is the kind of music I like to sing in the shower. So just to get to do the role is really exciting to me. And then, when I saw that Sam Buntrock was directing, I said, 'Absolutely.' Being aware of his other work, I just knew this was going to be unlike any production of Tommy I had ever seen before. When you think of Tommy on stage, you think of that iconic Des McAnuff Broadway production: Tommy, the wig, the white costume, the geometric shapes — just the sheer scale of that production. I just  knew that Sam was going to do something completely different. He is, and it's really thrilling.
(Story continues below the photo.)


John Moore: Recount for us how you went from a Spring Awakening groupie to being on national TV in Smash?
Andy Mientus:  When I was a theater student, I fell in love with Spring Awakening, and I made a Facebook fan group for the show — back in the days when you could do that. A bunch of my friends had seen it over the summer and we were just buzzing about it, and making that page was just something I did one Saturday. And then a bunch of people started following it. And then one of the producers reached out and said they were exploring using social media, which was a very new concept for a Broadway show at the time. I already had all these Spring Awakening followers, so they said: 'Why don't we just make your page the show page?' And so I became one of the first-ever Social Media Managers for a Broadway show.
John Moore: Did they know then that you could sing?
Andy Mientus: They knew that I was a performer. So when (auditions) were coming up for the first national tour, they said, 'Oh, you should go audition.' There's one in Chicago, and you're in Michigan. It's not that far.' It actually is kind of far, but I drove there. I waited in line at 5 o'clock in the morning. I still know the guys who stood on either side of me in line — and we are all still in the business. Many callbacks later, and after many more twists and turns, I was cast in the national tour.
John Moore: That's storybook.
Andy Mientus: It was a really big, auspicious first gig to have. And so naturally I thought, 'OK, you're in the national tour of a Broadway show — so, next you'll be in a Broadway show. And it will just sort of continue from there. And … that's not how it works. I had some very quiet years when that was done. I was really hitting the pavement, doing little gigs, getting my name out there, playing any concert, working for free, seeing casting directors. But I just could not get cast in a Broadway show. But then I did get cast by NBC for "Smash" — which oddly enough was a show about Broadway. It took being on a TV show about Broadway to get cast, finally, in a Broadway show. That was Les Misérables in 2014. And it's just gotten weirder since then. I mean, there really is no linear path.
John Moore: It's crazy to think that one episode of Smash was seen by more people than could probably ever see you perform live on a stage over your whole lifetime.
Andy Mientus: That's true.
John Moore: Can you relate any of the lessons learned through all of that to your performance now in Tommy?
Andy Mientus: Oh, gosh, yes. I really relate to the part about Tommy growing up feeling isolated, feeling unseen, feeling unheard — and then suddenly, because of this one weird little talent he possesses, all these people want to be around him. I was so young during the Spring Awakening tour. I was away from home for the first time, and I was going through a really crazy time in my personal life. And suddenly there are all these people looking at you, and you think it's genuine. They've seen you on stage being vulnerable in front of an audience, and they are following what you're doing, and so they think that they know you. But they don't actually know you at all. There's this moment in Tommy where he brings all these people into his home and he thinks, 'Oh, now I've filled the gap. I have this family.' And then based on something Sally Simpson says, he quickly realizes that he had it all wrong. They don't really want to be around him — They want to be around the idea of him. That's something I have encountered, that hunger for attention because of deep personal struggle. Yeah.
John Moore: So here's a practical actor question: How does one actually rehearse playing deaf, dumb and blind? Do you put on a blindfold and go, or do you go full-on Daniel Day-Lewis?
(Story continues below the photo.)

Andy Mientus and the cast of 'The Who's Tommy' for the DCPA Theatre Company, playing through May 27. Scenic Design by Jason Sherwood. Photo by Adams VisCom.

Andy Mientus: I really just try to lock into Tommy's inner life. I can relate to what it feels like to be marginalized, so that's what I try to feel when I'm doing all of that. But there is one practical way: I actually have terrible vision if I take my contacts out. So I rehearsed without them for the first few days —  just to really get into that 'Tommy Stare.' In my head, I'm thinking that I'm in one of those horror stories where the anesthesia has kicked in just enough for you to be paralyzed and numb, but not enough to be unconscious. Tommy's in there watching it all. It's a bit like the movie Get Out when they go to the Sunken Place. Tommy's looking at his life through the wrong end of the telescope. He's seeing it all. He's taking it all in — but he has no control over it. I just try to think about the terror of that and the isolation of that and the sadness of that. And that's a lot to think about — so then it's easy to just go numb and catatonic.
John Moore: What do you want to say to those people who already are familiar with Tommy, either the album or from seeing a local stage production of The Who's Tommy, and think they may already may know what they are in for when they come to see this show?
(Pictured below and right: Andy Mientus with the other three actors who portray Tommy for the Denver Center: Samuel Bird, left, and Radley Wright play Tommy at age 4; Owen Zitek, front, plays Tommy at age 10. Photo by Bamboo Booth.)
Andy Mientus: I think that no matter what experience you bring into our production — whether you're a huge fan of the album or a huge fan of the Des McAnuff Broadway production — I think you are going to be incredibly surprised and, I hope, pleasantly surprised. I think the album fans will be surprised because we are telling a fully realized visual story based on this music that you already know and love. And the film fans will see it all in a way that's different from the movie, which is very much 'of its time.' Our version tells a more human story and a more relatable story and a much more realistic story. For all of its fantastical elements, we really have found a way, I think, to make the story feel plausible and realistic. If you were a big fan of the Broadway production, you think scale. You think of a large cast, the dancing, the lights. This is not like that. I feel audiences today are hungry for a more chamber, intimate, authentic experience like Next to Normal or Dear Evan Hansen — shows that really strip everything away and focus on storytelling. Our production's feels a lot more like that. And I think that's going to let you hear a lot of these lyrics, in a new way.
John Moore was named one of the 12 most influential theater critics in the U.S. by American Theatre Magazine in 2011. He has since taken a groundbreaking position as the Denver Center's Senior Arts Journalist.

Bonus coverage: Andy Mientus, author of 'The Backstagers and the Ghost Light'


John Moore: Tell us about your book.
Andy Mientus: I have been tasked with writing a series of books based on this incredible comic series called The Backstagers and the Ghost Light. The publisher was looking to expand the original eight-comic arc into a series of books for 10- to 14-year-olds. And they hired me to do so. I've never written a novel before, but I've just turned in the first installment, which is called The Backstagers, and it comes out on Sept. 25 from Chronicle Books, which is an imprint of Abrams Books. It's available for pre-order now. And I'm already working on the second one, which am writing while I'm here in Denver. So I think it's going to be influenced by my experiences here, definitely.
John Moore: What's it about?
Andy Mientus: It's about a group of kids who come together and make magic behind the scenes. And I think that's a really important story to tell.
John Moore: Who is your target audience?
Andy Mientus: I think the readers for this book are theater kids. It's a book I wish that I had growing up as a theater nerd. Because not only is it about theater and what makes theater cool and fun and exciting, it's about friendship and inclusivity.
John Moore: What about theatre nerds who are older than 14 … like me?
Andy Mientus: I've written it to be appropriate and clear for 10- to 14-year-olds. But if you're into any kind of whimsical, sci-fi magic stories that also have jokes about Hello, Dolly! in it, you'll love this. So middle-aged theater nerds shouldn't feel embarrassed to read it.

The Who's Tommy: Ticket information

Based on The Who's iconic 1969 rock concept album, Tommy is an exhilarating musical about the challenges of self-discovery and the resilience of the human spirit. When young Tommy retreats into a world of darkness and silence after a deeply traumatic incident, he must navigate a harsh and unforgiving world with no hope of recovery. But when he discovers a newfound talent for pinball, he's swept up in the fame and fortune of his success. Tommy and his family give new voice to The Who's classic stadium rock as they navigate the troubles and joys of being alive.
Presented by DCPA Theatre Company
Performances through May 27
Jones Theatre, Denver Performing Arts Complex
Call 303-893-4100 or BUY ONLINE

Previous NewsCenter coverage of The Who's Tommy:


Video: Your first look at The Who's Tommy at the Denver Center
Video by DCPA Video Producer David Lenk,
https://www.denvercenter.org/wp-content/uploads/2018/04/featured-image-6849.jpg
427
640
John Moore
John Moore
2018-05-10 16:14:00
2018-06-14 15:30:11
Andy Mientus: That deaf, dumb and blind kid is anyone who's been marginalized