DCPA
Complementing Curriculum through Dramatic Learning
By: Megan Fevurly
As schools limit the number of days per week of instruction or issue snow days due to "continued staffing shortages," it causes families to ask: Is there a teacher supply chain crisis in Colorado?
While the supply chain crisis affecting the availability of goods don't reflect the number of teachers in schools today, there is a very real fear of mass teacher attrition as the pandemic wears on. Much is asked of our teachers, especially today; in the 2020/21 school year, many were teaching remotely or in a hybrid model. In caring for their students' academic needs, they were also supporting their students' emotional and mental health. The traumatic stress of COVID has not lessened as more classrooms are back in-person.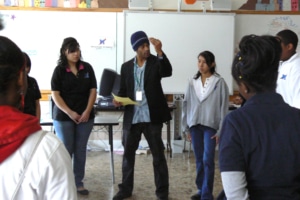 Additionally, the home lives of teachers were also disrupted. 78% of teachers reported significant job-related stress from the 2020/21 school year. Nearly one in four teachers reported that they would leave the profession at the end the academic calendar, a large increase from one in six teachers prior to the pandemic. There is legitimate dread that this attrition will continue after the current 2021/22 school year.
So how does the Denver Center for the Performing Arts (DCPA) help?
Enter Dramatic Learning, a customized arts in education program to support teachers and students. It doesn't replace teachers; instead, it is designed to bolster educators and the curriculum already in place.
Dramatic Learning is not a one-size-fits-all program. It's a customized approach to building and implementing curriculum. DCPA Teaching Artists partner with teachers at PreK–12 schools and learn what areas of their curriculum need support. The support doesn't have to be limited to the dramatic arts. Instead, it could be any core curriculum subject, such as language arts, science, social studies, math, or vocational training.
In the 2020/21 school year, Dramatic Learning educators virtually engaged with 11,787 PreK–12 students across the state of Colorado. Their priority was to partner with educators to support learning and engagement that was challenged due to COVID restrictions, funding shortages, and changes in classroom set-ups. In the 2021/22 school year, the program has returned to largely in-person instruction and is on target to engage nearly 15,000 students.
In addition to collaborating with individual educators, the DCPA works with the Colorado Department of Education Arts Integration team so that its approach stays aligned with current standards and practices. As such, each Dramatic Learning session incorporates the best practices in culturally responsive teaching approaches, which recognize that students bring unique strengths and experiences that make core curriculum relevant to them.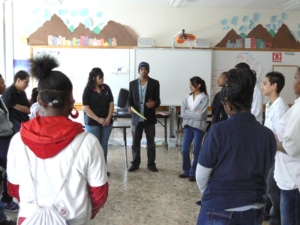 Additionally, the program expands and builds upon social and emotional learning so that students better understand their thoughts and emotions, become more self-aware, and develop more empathy for others around them.
The learning activities are designed to ignite curiosity, encourage active participation, and engage students in new ways. This collaboration between educator and DCPA Teaching Artist can boost morale, ease stress and present new, invigorating ways to connect with students of all ages.
For more information on Dramatic Learning or to schedule the program for your school, visit denvercenter.org/education.
https://www.denvercenter.org/wp-content/uploads/2022/01/DramaticLearning.jpg
1200
1800
DCPA Press
DCPA Press
2022-01-12 11:00:19
2022-01-13 12:07:13
Complementing Curriculum through Dramatic Learning