Break into voice over work by taking a class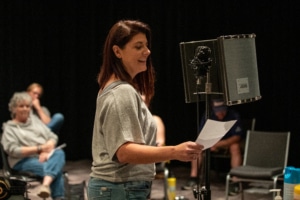 If you are a podcast fan, you know a great podcast when you hear it, right? Or audiobook, video game, or even that voice telling you to get on the RTD Train before the doors close.
A good voice over is, well, good. A great voice over is one you tell your friends about.
A "Voice Over" is an off camera recording of an individual used to narrate, describe, instruct, or entertain. While the RTD voice may be a bit monotone, you certainly know what to do, where you're going and when to exit. And these days, a well-voiced book helps get an author to the top of New York Times bestseller's list.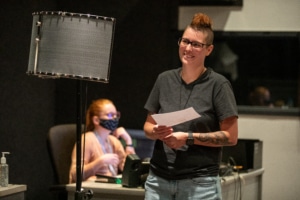 Never underestimate the effectiveness of a voice over.
Maybe someone has commented on your voice. Do you think you have what it takes to tell Luke "I am your Father" the way James Earl Jones did in Star Wars? Or perhaps you are the next Seth MacFarlane on "Family Guy" or even Colorado's own Maggie Roswell from "The Simpsons"?
If you're interested in breaking into voice over work, there are numerous training programs in the area including at the Denver Center for the Performing Arts. The benefits of taking a class are substantial. Here are 10 reasons to enroll:
Voice Over work is increasingly in demand as the industry grows
You will learn how to create your own studio using affordable, quality equipment
Training builds credibility with potential clients
You will increase your literacy
Training gives you priority at auditions
You will improve your verbal fluency, pacing and enunciation
Students gain vocal warmup skills and breath control
You may qualify for higher compensation from your voice over clients
Experience attracts better quality voice over work
You will gain confidence to nail your audition
DCPA Education offers Voice Over classes year-round. The 2022 Spring session goes on sale February 8 and scholarships are available. Visit denvercenter.org/education.
https://www.denvercenter.org/wp-content/uploads/2022/02/169A5763.jpg
4480
6720
DCPA Press
DCPA Press
2022-02-03 11:23:07
2022-02-03 15:18:50
Break into voice over work by taking a class