DCPA announces 2020-21 Theatre Company season
Lineup includes world premiere of Rattlesnake Kate by Neyla Pekarek in the newly renovated Marvin and Judi Wolf Theatre

DCPA Theatre Company Artistic Director Chris Coleman announced a wide-ranging 2020-21 season this morning, including the world premiere of the musical Rattlesnake Kate by Colorado's own Neyla Pekarek, former member of the Grammy-nominated folk band The Lumineers. The eclectic lineup of nine mainstage productions includes the company's first Edward Albee production in more than 20 years, a new adaptation of Jane Austen's Emma, the world premiere of Beaufield Berry's family drama In the Upper Room and the seasonal return of A Christmas Carol.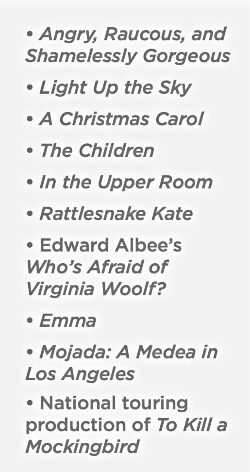 The DCPA Theatre Company's 42nd season and third under Coleman's leadership opens September 18 with a co-production between the DCPA Theatre Company and two of the most highly regarded performing-arts organizations in the country, Arena Stage in Washington D.C. and Hartford Stage in Connecticut. All three will, in turn, host a run of Pearl Cleage's comedy Angry, Raucous, and Shamelessly Gorgeous. In Luis Alfaro's Mojada: A Medea in Los Angeles, the Greek tragedy is reborn through the experiences of a young immigrant family living in modern-day Los Angeles.
Rounding out the lineup is Moss Hart's love letter to the theatre Light Up the Sky, a mysterious eco-thriller called The Children to be directed by Pesha Rudnick of Boulder's Local Theater Company, and Albee's masterpiece, Who's Afraid of Virginia Woolf?, directed by Associate Artistic Director Rose Riordan. A Denver Post poll of industry insiders ranked this monumental drama No. 5 on the list of the most important American plays ever written.
"I love that this season brings American classics back into the mix, that several of these stories give us an opportunity to speak immediately to the moment we are living in, and that we continue stretching our relationships across this region," said Coleman. "And, of course, I'm personally excited to be part of the team that is bringing a new musical about a Colorado legend to life here at the Denver Center."
As previously announced, To Kill a Mockingbird, Aaron Sorkin's new play, directed by Bartlett Sher and starring Richard Thomas, and based on Harper Lee's classic novel, will play The Ellie Caulkins Opera House from July 13-August 1, 2021 as part of both the Broadway and Theatre Company's 2020-21 full-season subscription packages. A public on-sale will be announced at a later date.
The new Theatre Company season brings with it the long-awaited re-opening of the company's largest performance space, formerly called The Stage Theatre, as the completely rebuilt, state-of-the-art Marvin and Judi Wolf Theatre. And because next season will be the intimate Ricketson Theatre's turn for modernization, the 2020-21 season will include three uncommonly up-close theatrical experiences in The Jones Theatre.
Next February, the eyes of the national theatre world are sure to be on the opening of Rattlesnake Kate. In 1925 near Greeley, Kate McHale Slaughterback came upon a migration of rattlesnakes while on her horse. To protect her young son and herself, she proceeded to famously kill 140 snakes. Pekarek wove Slaughterback's story into a concept album called Rattlesnake that she and playwright Karen Hartman have further developed into a stage musical that was a featured concert event at the 2019 Colorado New Play Summit.
"I really love finding stories that are unique to our particular region," Coleman said. "Kate Slaughterback lived here, and the music is composed by a Colorado artist. I think that symbiosis is super cool. This is really a story about a woman the world wasn't quite ready for, and she insists on meeting the world on her own terms. And the music is incredible."
Starting Tuesday on the NewsCenter: A daily deeper dive into the 2020-21 season
The other world premiere on the lineup is Beaufield Berry's In the Upper Room, about a multi-generational black family living under one roof in the 1970s. In the Upper Room and Rattlesnake Kate were both featured readings at the 2019 Colorado New Play Summit. Over the past 15 years, 31 Summit plays have gone on to be premiered as fully staged productions on the DCPA Theatre Company's mainstage season.
Coleman says he never crafts a season to fit a pre-determined theme, but one thing that excites him about the 2020-21 lineup "is that they're all very interesting pieces, and you are going to get to hear some familiar voices in different ways," he said. "Maybe you've never seen a non-musical Moss Hart play, because you only know his musicals. Or maybe you have yet to meet Beaufield Barry or Pearl Cleage. There are many perspectives and sensibilities you haven't heard from before. That's very exciting to me in the time that we're living in."
John Moore was named one of the 12 most influential theater critics in the U.S. by American Theatre Magazine. He has since taken a groundbreaking position as the Denver Center's Senior Arts Journalist.
2020-21 DCPA Theatre Company season at a glance:
September 18-October 25: Angry, Raucous, and Shamelessly Gorgeous (Jones Theatre)
October 2-November 1: Light Up the Sky (Space Theatre)
November 25-December 27: A Christmas Carol (Wolf Theatre)
January 8-February 14, 2021: The Children (Jones Theatre)
January 22-February 28, 2021: In the Upper Room (Space Theatre)
February 5-March 14, 2021: Rattlesnake Kate (Wolf Theatre)
April 2-May 16, 2021: Edward Albee's Who's Afraid of Virginia Woolf? (Jones Theatre)
April 23-May 23, 2021: Emma (Wolf Theatre)
May 14-June 13, 2021: Mojada: A Medea in Los Angeles (Space Theatre)
Also on the Theatre Company full season subscription package:
July 13-August 1, 2021: National Broadway touring production of To Kill a Mockingbird (The Ellie)
---
THE PLAYS AT A GLANCE:
(Descriptions provided by DCPA Theatre Company)
Angry, Raucous, and Shamelessly Gorgeous
(Presented in association with Arena Stage and Hartford Stage)
By Pearl Cleage
Directed by Susan V. Booth
September 18 through October 25, 2020 (Opens September 25)
Jones Theatre
At a glance: Angry, Raucous, and Shamelessly Gorgeous is an all-female tribute to aging gracefully and … gorgeously! In another life, performance artist Anna Campbell, now 65, sparked controversy when she bared it all in an iconic feminist critique. When a new women's theatre festival asks to re-stage the piece, Anna's dreams of reclaiming the spotlight are dashed when she meets the youthful adult entertainer who will be recreating her role. But when they set aside their pride and assumptions, the two very different women find they both have just as much to learn as they have to teach. Playwright Pearl Cleage, one of America's foremost black writers (What Looks Like Crazy on an Ordinary Day), looks back on a lifetime of her own activism with humor and grace in this multi-generational dramatic comedy.
---
Light Up the Sky
By Moss Hart
Directed by Artistic Director Chris Coleman
October 2-November 1 (Opens October 9)
Space Theatre
At a glance: It's opening night of a budding playwright's first production and his adoring collaborators are buzzing with excitement for its big debut. But when the audience reaction takes the fizz out of their champagne, their camaraderie crumbles in this classic comedy that proves there really is no business like show business. Set in the 1940s, Light Up the Sky is a hilarious homage to the Golden Age of American theatre, chock full of charismatic personalities, whiz-bang shenanigans and peppy quick-fire dialogue. Playwright Moss Hart is best known as one half of the powerhouse writing duo Kaufman and Hart, who together created some of Broadway's most beloved comedies including You Can't Take It With You and The Man Who Came to Dinner.
Producing Partners: Diana and Mike Kinsey; Robert and Judi Newman
---
A Christmas Carol*
By Charles Dickens; Adapted by Richard Hellesen; Music by David de Berry
Directed by Melissa Rain Anderson
November 25-December 27 (Opens December 3)
Wolf Theatre
At a glance: Denver's beloved holiday tradition returns to christen the newly renovated Marvin and Judi Wolf  (formerly the Stage) Theatre. Based on Charles Dickens' classic novel, this joyous and opulent musical adaptation traces money-hoarding skinflint Ebenezer Scrooge's triumphant overnight journey to redemption. A Christmas Carol illuminates the meaning of the holiday season in a way that has resonated for generations.
Producing Partner: Singleton Family Foundation
*Added attraction; not part of the subscription season
---
The Children
By Lucy Kirkwood
Directed by Pesha Rudnick
January 8-February 14, 2021 (Opens January 15)
Jones Theatre
At a glance: In a remote cottage on England's rocky coast, a couple of retired nuclear engineers are living a very quiet life. But outside, the world is in chaos following a series of devastating events. When an old friend turns up unexpectedly at their door, their reminiscing and small talk turns to shock as they discover the real reason for her visit. This sly and suspenseful contemporary drama was a 2018 Tony Award nominee for Best Play. Balancing deepening dread with moments of love and laughter. The New York Times called The Children "an eco-thriller, bristling with chills and suspense"; as harrowing as it is heartening.
---
 In the Upper Room
WORLD PREMIERE
By Beaufield Berry
Directed by Gregg T. Daniel
January 22-February 28, 2021 (Opens January 29)
Space Theatre
At a glance: Meet the Berrys, a multi-generational African American family living under one roof in the 1970s. Their lives orbit around Rose, a strong-willed matriarch whose superstitions and secrets drive her relatives to distraction. Fed up, the aunties, in-laws and granddaughters of the household make their own plans to break away so they can finally live in peace. But by standing their ground, they may lose what has held them together all along. Loyalty, spirituality and colorism are all at play in this dramatic dark comedy, based on the real family history of playwright and novelist Beaufield Berry.
Producing Partner: June Travis
Supported in part by the Women's Voices Fund
Summit Spotlight: Beaufield Berry on how every family is every family
---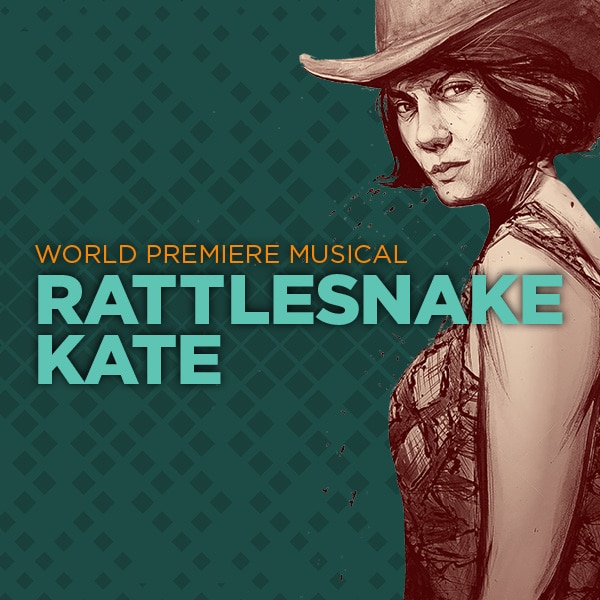 Rattlesnake Kate
WORLD PREMIERE MUSICAL
Music and Lyrics by Neyla Pekarek; Book by Karen Hartman
Directed by Artistic Director Chris Coleman
February 5-March 14, 2021 (Opens February 12)
Wolf Theatre
At a glance: Around 100 years ago near Greeley, frontierswoman Kate Slaughterback fought tooth, nail and rifle to save her young son, killing 140 rattlesnakes in one quick-thinking and courageous battle. After the infamous showdown, "Rattlesnake Kate" became a global sensation. But her battles were far from over: To find a love that would last. To be treated as an equal. To forge a future for herself and for other women like her. Discover the inspirational true story that is larger than life and stranger than fiction in this vibrant new musical by Neyla Pekarek (former member of the Grammy-nominated folk-rock band The Lumineers) and playwright Karen Hartman.
Producing Partners: Peggy Finley, Alan and Katie Fox, Ruth Krebs and Peter Mannetti, Ted Pinkowitz and Susan Fox Pinkowitz, Integra Financial
Summit Spotlight: Neyla Pekarek and Karen Hartman on Rattlesnake Kate
---
Edward Albee's Who's Afraid of Virginia Woolf?
Written by Edward Albee
Directed by Associate Artistic Director Rose Riordan
April 2-May 16, 2021 (Opens April 9)
Jones Theatre
At a glance: There is no dysfunctional stage couple quite like George and Martha, and there is no better way to experience this powder-keg drama than up close in the intimate Jones Theatre. The funny and darkly unsettling duo welcome you into their living room, along with young couple Honey and Nick. But with every drink poured, George and Martha's takedowns get more heated, until the conversation descends into all-out marital warfare. How far can they go before this raucous night spills over? Lean in to the titillating shock and awe of Edward Albee's 1963 Tony Award-winning masterpiece. (But not too close.)
Producing Partners: Martin and Jo Semple
John Moore's 2005 interview with Edward Albee: 'I want people to imagine the unimaginable'
---
Emma
Adapted by Kate Hamill from the novel by Jane Austen
Directed by Meredith McDonough
April 23-May 23, 2021 (Opens April 30)
Wolf Theatre
At a glance: Kate Hamill's new adaptation of Jane Austen's classic comedy is a bit zany and irrepressibly modern, infusing the language and perspectives of today into Austen's beloved characters. Ever the romantic, Emma Woodhouse prides herself on being the best matchmaker in her town. Goaded by her friend George Knightley, she sets out on a quest to set up the adorable ingénue Harriet with a fitting suitor. But love has its own agenda as it throws curveball after curveball – including a few for Emma herself. Hamill's previous Austen adaptations, including Pride and Prejudice and Sense and Sensibility, have made her one of the most-produced playwrights in America.
---
Mojada: A Medea in Los Angeles
By Luis Alfaro
Directed by Lisa Portes (DCPA Theatre Company's Native Gardens)
May 14-June 13, 2021 (Opens May 21)
Space Theatre
At a glance: This is a timely adaptation of the ancient Greek tragedy Medea. After a harrowing immigration journey across the border, Jason, Medea, and their son's lives should be looking up. Jason quickly adopts the look, language and aspirations of his new country. He has found steady work and his boss promises a bright future. But Medea is traumatized and has already sacrificed everything – only to find that America demands even more. Blending elements of Mexican folklore and spirituality with the stark realities of the present-day United States, MacArthur Genius Award-winning playwright Luis Alfaro's stunning modern retelling unleashes the power of Euripides' ancient tragedy of transformation and betrayal.
---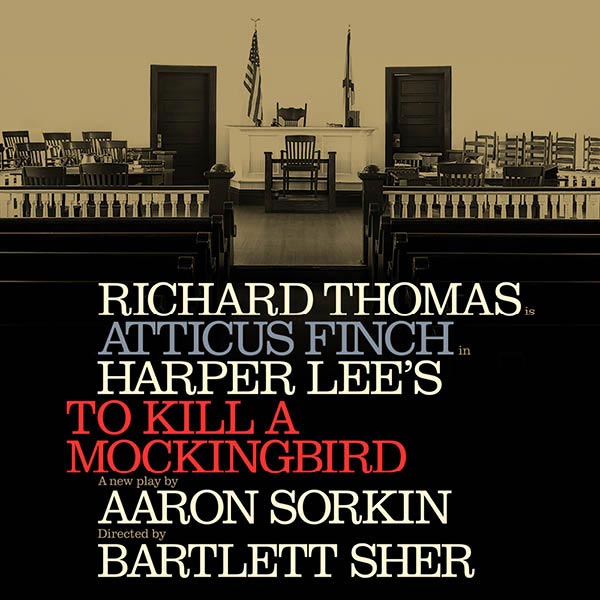 To Kill a Mockingbird*
FIRST NATIONAL TOUR
A new play by Aaron Sorkin based on the novel by Harper Lee
Directed by Tony Award winner Bartlett Sher
July 13-August 1, 2021
The Ellie
At a glance: All rise for Academy Award® winner Aaron Sorkin's adaptation of Harper Lee's Pulitzer Prize-winning masterwork. The New York Times Critic's Pick To Kill a Mockingbird is "the most successful American play in Broadway history. It has not played to a single empty seat" ("60 Minutes"). Rolling Stone gives it 5 stars, calling it "an emotionally shattering landmark production of an American classic," and New York Magazine calls it "a real phenomenon. Majestic and incandescent, it's filled with breath and nuance and soul." With direction by Tony Award® winner Bartlett Sher, To Kill a Mockingbird — "the greatest novel of all time" (Chicago Tribune) — has quickly become "one of the greatest plays in history" (NPR).
Only available on the 2020-21 Theatre Company or Broadway full-season packages
---
DCPA Theatre Company tickets and subscriptions
Renewing subscribers have the first opportunity to reserve tickets. 2020-21 Theatre Company subscription packages are now available online for renewing 2019/20 subscribers at denvercenter.org or by calling 303-893-6030. 
New Theatre Company subscriptions will be available for sale starting on March 9. Subscribers enjoy up to 30 percent off savings, free ticket exchanges, payment plans, priority offers to added attractions, discounted extra tickets, a dedicated VIP hotline, free events including talkbacks and receptions, and the best seats at the best prices. All 2020-21 Broadway and Theatre Company subscribers will get pre-sale access to DCPA Off-Center's Theater of the Mind, co-created by David Byrne and Mala Gaonkar.
Single tickets will go on sale at a later time. Due to the nature of live performance, all productions, prices and dates are subject to change.
Please be advised that the Denver Center for the Performing Arts – denvercenter.org – is the ONLY authorized ticket provider for these productions in Denver. As with all productions produced and/or presented by the DCPA, ticket buyers who purchase tickets from a ticket broker or any third party run the risk of overpaying or purchasing illegitimate tickets. Patrons should be aware that the DCPA is unable to reprint or replace lost or stolen tickets and is unable to contact patrons with information regarding time changes or other pertinent updates regarding the performance. Patrons found in violation of the DCPA Ticket Purchase and Sale Terms and Policies may have all of their tickets canceled.
https://www.denvercenter.org/wp-content/uploads/2019/02/2-Gallery-2019-Summit-add-Adams-Viscom-Rattlesnake-Kate.jpg
801
1000
John Moore
John Moore
2020-02-21 05:00:24
2020-02-21 05:21:51
DCPA announces 2020-21 Theatre Company season