Douglas Langworthy: A champion of good plays and goodness
DCPA Theatre Company's Director of New Play Development was known for his sharp mind and gentle spirit
Douglas Langworthy liked to call himself "a card-carrying Libra, ever seeking harmony in the world." Never comfortable in the spotlight, he would rather rate any public experience by its "squirm factor." Which may explain why the DCPA Theatre Company's Director of New Play Development always made his home in the American theatre many … many feet from spotlight.
Langworthy was a playwright, translator, academic, journalist, constant reader and an earnest cheerleader for new American plays. But his theatrical happy place was in the shadowy and largely invisible role of dramaturg – a kind of theatrical editor, tutor, ombudsman and advisor.
"To be a dramaturg, you have to like being a facilitator, because you're never going to be the one whose work is visible onstage," Langworthy said in a 2012 Denver Post interview. "I love the position I'm in. It's just perfect for who I am."
Who Langworthy was, says just about everyone reacting to the news of his unexpected death on Monday, was a kind and gentle man who always chose his words sparingly and compassionately.
"Doug was one of the most thoughtful of dramaturgs, one of the most impassioned of readers, one of the most caring of theatre professionals, one of the most active of listeners, and one of the kindest of human beings I've ever known," said Denver playwright Jeff Neuman, who in 2019 was named to the DCPA Theatre Company's inaugural Playwrights Group. That is a program Langworthy instituted with Literary Manager Lynde Rosario to commission five local playwrights and foster their creative growth for a year.
Langworthy joined the DCPA Theatre Company as Literary Manager in 2007, largely at the urging of former Associate Artistic Director Bruce Sevy. He was promoted to Director of New Play Development in 2016, tasked largely with being what Artistic Director Chris Coleman calls "our hand on the pulse of the American playwriting scene." Coleman said his current roster of commissioned playwrights, including Antoinette Nwandu, Mfoniso Udofia, Donnetta Lavinia Grays, Brian Watkins, Isaac Gomez, Max Posner and Kimber Lee, all are largely the result of relationships Langworthy has cultivated for the Denver Center.
Douglas Langworthy on translating Shakespeare: First do no harm
For the past 15 years, Langworthy has worked alongside Coleman or his predecessor, Kent Thompson, to curate the DCPA's nationally acclaimed Colorado New Play Summit. Langworthy had a hand in developing 19 plays for full production on the Theatre Company season. One of the most successful plays ever to come out of the Summit was Matthew Lopez's The Legend of Georgia McBride, and, Thompson said, "Doug discovered that for us.
"Doug was gifted in so many ways, but he was particularly adept at identifying plays we should be reading," Thompson added. "He had a great track record for picking out great stories that would have gotten lost in the pile otherwise."
For more than a dozen years, Langworthy also hosted the DCPA Theatre Company's Perspectives, a salon-style series inviting audiences to hear from members of every play's cast and creative team just before the first preview of every production. Last year, in partnership with DCPA Education, Langworthy also helped launch First Mondays, a monthly opportunity for local playwrights to have scenes from their developing plays read aloud by professional actors.
Over the past several years, Neuman said, Langworthy not only unlocked the door at the Denver Center for Colorado playwrights – he blew it in. He became a constant presence at staged readings and local productions around the metro area.
"Doug's presence and interest and attention to the local playwriting community meant so much to all of us," said Neuman, who is part of a group called Rough Draught Playwrights, which hosts a quarterly "playground" for local playwrights to try out their developing works in front of an audience. "Doug attended often, and that told everyone that he really respected the wealth of talent in this community –  and he wanted to connect to it. And with the Playwrights Group, Doug wanted to create something for local playwrights that was inclusive and sustainable."
The call to writing
Langworthy was born Oct 16, 1958. He graduated from Pomona College in 1980 with a Bachelor's Degree in German Language and Literature, and he earned his Master's Degree in Dramaturgy from the Yale School of Drama in 1992. He began post-collegiate life as the Managing Editor of American Theatre magazine from 1993-96, which is when he got a call from new Oregon Shakespeare Festival Artistic Director Libby Appel, his former Cal Arts teacher who first recognized that Langworthy was probably not destined to become a professional actor. Instead, she suggested he study dramaturgy at Yale. Langworthy complied, and from then on, he credited Appel for his professional theatrical career.
But now she was calling in search of candidates for the Oregon Shakespeare Festival's first full-time dramaturg. Langworthy did have one candidate to suggest: Himself.
"I said, 'Done. You've got the job,' " Appel said with short-lived laugh. "I can't imagine the world without Doug Langworthy in it," she added. "He was a life buoy in the sea. Someone you just counted on to be always there."
Prior to Denver, Langworthy was the Dramaturg and Director of Play Development at McCarter Theatre in Princeton, N.J., for two years, and the Director of Literary Development and Dramaturgy at the Oregon Shakespeare Festival for seven.
"I can't imagine the world without Doug Langworthy in it. He was a life buoy in the sea. Someone you just counted on to be always there." – Libby Appel
Langworthy was awarded the Elliott Hayes Award for Dramaturgy for his work on the DCPA Theatre Company's 2011 Ruined, which involved two trips to Uganda. Langworthy was able to set up a Skype conversation between the actors and a group of Ugandan women who had survived violence similar to that of the Congolese women in the play. "These women were completely open about some very difficult things," Langworthy said.
Langworthy served as dramaturg on numerous other Theatre Company productions, including Indecent, Native Gardens, Macbeth, The Book of Will, All the Way, As You Like It, Appoggiatura, Lord of the Flies, The Unsinkable Molly Brown, Shadowlands, Hamlet, Just Like Us, Sense & Sensibility The Musical, The Three Musketeers and When We are Married. Just last month, he was the dramaturg for the Colorado New Play Summit reading of the indigenous play Reclaiming One Star.
It's probably no coincidence that "dramaturg" is a German word named after the 18th-century German playwright Gotthold Ephraim Lessing, whom scholars believe to be the world's first. Langworthy's passion as a playwright was translating texts from their native German into what he called "readable English." He translated 15 German plays, becoming, according to Coleman, a legend in the field. "When they teach translation at the Yale School of Drama," Coleman said, "they are teaching Doug's works."
Langworthy's greatest playwriting pride was most likely translating Frank Wedekind's Spring Awakening, the same banned 1906 play of sexual repression that inspired the hit Broadway musical. It was produced by Colorado State University in 2012. He became a published translator in 2014 when his adaptations of Johann Wolfgang von Goethe's sprawling epic poem Faust Parts 1 and 2 were published by a small academic press. That's the age-old legend of Faust, who pledges his soul to Mephistopheles if (and only if) he is satisfied with the knowledge he attains. Langworthy somehow corralled a sprawling saga that took Goethe 30 years to write; one that spans a witch's kitchen, a dungeon, an imperial throne room and a grand burial; one that peppers in serious metaphysical questions – and made it somehow possible to produce on the American stage.
"Langworthy's translation fills an important void in American translations of German drama, and presents a version of this masterpiece suitable for the stage and classroom," wrote Walter Bilderback, Dramaturg of The Wilma Theater. "Langworthy has expertly trimmed the gargantuan text while maintaining Goethe's structure. In place of Goethe's rhyming knittelvers, which can sound like Dr. Seuss to American ears, Langworthy provides a rhythmic and colloquial blank verse that feels both classical and contemporary."
Langworthy followed that success with an anthology of four translations of plays by Heinrich von Kleist.
"Doug's particular talent was knowing how to take German idioms and translate them into American idioms," Thompson said. "He was very gifted at turning those very dense plays into something that was accessible to an American audience."
Langworthy once attributed his interconnected love for both the German language and classic texts to seeing a live production of Troilus and Cressida in then-East Berlin. "While I can't tell you much about the design or the actors, I was struck by how clear the language was," he said. "You see, in Germany, Shakespeare gets translated once or twice each generation into contemporary language that sits comfortably in the listener's ear. As a fluent speaker of German, I found in this production that I didn't have to struggle with archaic language to get through to the meaning of the text, a feeling that was surprisingly liberating."
1999 was a big year for Langworthy at the Oregon Shakespeare Festival. He developed a new adaptation of Dumas' The Three Musketeers in collaboration with Linda Alper and Penny Metropulos, and a new translation of Brecht's The Good Person of Szechuan, both in the same season. The Three Musketeers was then staged by companies around the country, including, in one of Langworthy's great personal milestones – the DCPA Theatre Company in 2012.
Langworthy was a big part of The Oregon Shakespeare Festival's controversial Play On!  Initiative in 2015. The oldest Shakespeare Festival in the country commissioned 36 playwrights to translate 39 plays widely attributed to Shakespeare into contemporary modern English. The national conversation that followed was polarizing, but Langworthy was tasked with adapting no less than all three parts of Henry VI, making him the largest single contributor to the project. Langworthy understood people's concerns, "But in my mind, if these translations can open up Shakespeare to audiences who may have felt put off by the outdated Elizabethan language, that will have justified the time, effort and money expended," he said.
"Doug's strength is my favorite part of theatre: Collaboration," said Geoffrey Kent, who actor in the DCPA Theatre Company's The Three Musketeers and later directed workshop stagings of Langworthy's Henry VI Parts 2 & 3 with the Colorado Shakespeare Festival. Many local actors took part, including DCPA Theatre Company veteran Randy Moore.
"Doug was always eager and excited to find solutions and make the work clear and honest," Kent said. "He represents to me what is best about a playwright and dramaturg: Humor, knowledge and an eagerness to discover. This is a such loss for us all."
Video above: In April 2016, Douglas Langworthy was the featured playwright at a gathering of the Rough Draught Playwrights' quarterly playground. Local actors read a scene from Langworthy's adaptation of Bertolt Brecht's 'The Good Person of Szechwan.'
A gentle and genial legacy
Langworthy enjoyed singing in the Denver Gay Men's Chorus, participated in several book clubs and, surprisingly, "was a cutthroat croquet player," Neuman said. Langworthy and DCPA Theatre Company Artistic Producer Grady Soapes spent many summers collaborating on an annual new-play festival in Steamboat Springs.
"When I met him 10 years ago, it immediately became clear to me how much he was adored and respected by anyone who crossed paths with him," Soapes said. "Family, friends, colleagues – they were all family to Doug. He immediately makes anyone feel loved and taken care of and his love of the art was so abundant. This community is already feeling his loss in a major way. This is a void that can't possibly be filled."
At a leadership retreat just last week, Langworthy told Soapes: "I am a learner. I get to learn every day, and I am so lucky that is a part of my job."
"No matter how bad it gets, there are resources out there for you. Find them when you need them." – Kent Thompson
Langworthy was a favorite of directors who admired his calm accumen and grace under pressure. One of them was Wendy C. Goldberg, who directed five DCPA Theatre Company productions with Langworthy as her dramaturg. "Doug was honestly one of my favorites because we'd work so hard, and we'd play hard too – and he was always up for both options," she said. "He was a company guy at a time when companies were drying up, and he welcomed me fully."
Langworthy privately suffered from depression and, ultimately, took his own life, according to his family. He was 61. The issue of mental health is particularly important to Thompson and his wife, actor Kathleen McCall-Thompson, who has been a board member with the Denver Health Foundation for the past 15 years.
"Depression is real battle for many people, and I want to tell everyone that no matter how bad it gets, there are resources out there for you," Thompson said. "Find them when you need them."
Langworthy is survived by Rex Fuller, his husband since September 4, 2011, and the CEO of The Center on Colfax. He is also survived by his father and stepmother, Gene and Maria Langworthy of Nevada; his mother and stepfather, Barbara and Phill Mautino of California; brother Don Langworthy and his partner, Donovan; brother Greg Langworthy and his wife Veronica, and their children Rob, William, Liz, Maggie and Mark.
Details of a life celebration of life will be updated here as they become available.
John Moore was named one of the 12 most influential theatre critics in the U.S. by American Theatre Magazine. He has since taken a groundbreaking position as the Denver Center's Senior Arts Journalist.
Photo gallery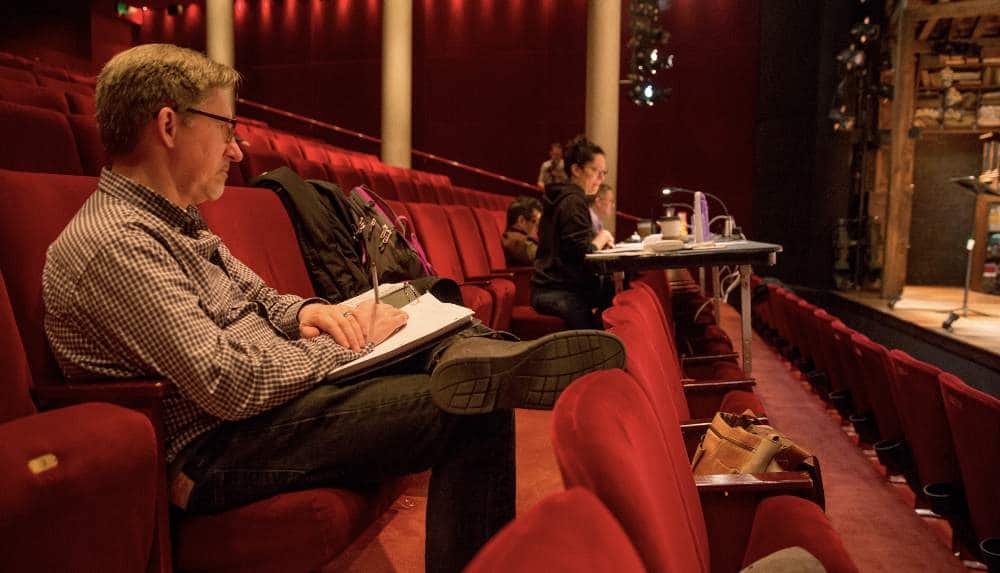 Douglas Langworthy/Additional career highlights
In 2004, he collaborated with director Ken Albers on a new adaptation of Friedrich Dürrenmatt's The Visit for the Oregon Shakespeare Festival.
His German translations include Medea by Hans Henny Jahnn, as well as The Prince of Homburg, Penthesilea and Amphitryon.
In 2007 he collaborated with Penny Metropulos and Linda Alper to write lyrics and book for the new musical Tracy's Tiger, based on the novella by William Saroyan, with music by Sterling Tinsley.
He was for many years the Dramaturg for Target Margin Theater in New York, which produced his translation of Goethe's Faust in 2006, directed by David Herskovits. He also co-wrote the libretto for The Sandman, an opera with music by Thomas Cabaniss.
He was a member of the Literary Managers and Dramaturgs of the Americas (LMDA) for 24 years.
Douglas Langworthy/Playwriting highlights
Amphitryon by Heinrich von Kleist (translation). When Jupiter comes down to Earth to spend an evening with the lovely Alcmena in the guise of her husband, Amphitryon, a true comedy of errors ensues. But things take a serious turn when Jupiter forces Almena to choose which is her true husband.
Penthesilea by Heinrich von Kleist (translation). In the midst of the Trojan War, the Amazons attack the Greeks, seeking husbands with whom to propagate the next generation of female warriors. But when Penthesilea, the Amazon queen, clashes with Greek hero Achilles, the war grinds to a halt for the two of them. Can love exist alongside war, especially between two leaders?
The Prince of Homburg by Heinrich von Kleist (translation). Prince Friedrich jumps into battle prematurely against the Elector's explicit orders. But did he hear those orders when they were given? And if not, who is to blame?
The Good Person of Szechuan by Bertolt Brecht translation). When the gods come down to earth to find just one good person to prove that human beings can survive despite the economic hardships around them, they put their money in the good-hearted Shen Te. But the windfall they give her just gets her into more trouble.
Spring Awakening by Frank Wedekind translation). In this original, non-musical version of Wedekind's play, a group of German teenagers find that their first sexual stirrings are met with silence and misinformation by the adults around them, leading to tragedy.
Women in Love by D.H. Lawrence (adapted by Langworthy and Art Manke). In the wake of World War I, as England is reeling from change all around, two sisters search for love that will offer them security and comfort that is, at the same time, unfettered by societal expectations and constraints.
https://www.denvercenter.org/wp-content/uploads/2020/03/Douglas-Langworthy-2020-Playwrights-Slam.-Photo-by-John-Moore1.jpg
726
1000
John Moore
John Moore
2020-03-10 18:31:58
2020-03-12 18:22:19
Douglas Langworthy: A champion of good plays and goodness