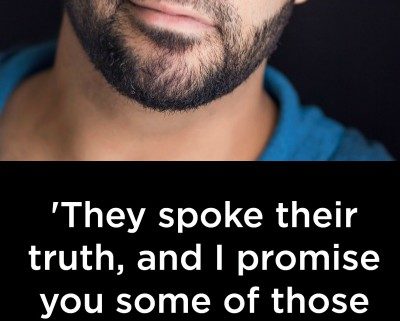 For one day in Denver, 'Hamilton' makes students the stars
The video above offers a full recap of 'EduHam' day in Denver, complete with interviews and performance excerpts. Separate videos of each individual performance below. Videos by DCPA Video Producer David Lenk and Senior Arts Journalist John Moore.
Education program allows underserved students to rise up and have their voices be heard before thousands of peers 
Wednesday was no ordinary day at the Buell Theatre.
The decibel was higher, the shrieks were louder, the ages were younger and the faces were distinctly more varied in color.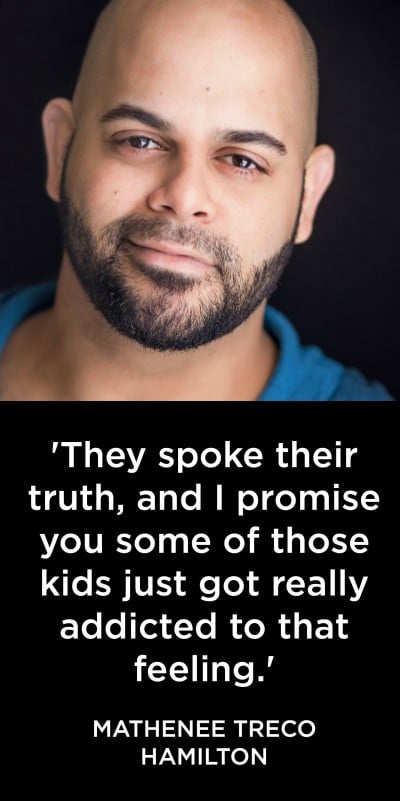 This was "EduHam," the innovative educational program developed by the Broadway musical phenomenon Hamilton. On Wednesday, 2,700 students and teachers from 38 Denver-area high schools participated in morning activities followed by a matinee performance of the sold-out, Tony Award-winning musical.
You knew this performance would be different before it even began when the students in the mezzanine started a wave. You knew it during the show as they finger-snapped in affirmation of lines that connected with them and roared at the end of songs as if this were a rock concert. Which, in many ways, it was. You knew it as the show was ending when one voice pierced the silence with a scream of "Oh my God!" as, onstage, one of history's most infamous bullets was piercing Alexander Hamilton's heart.
The students were not only watching a piece of history. They were part of it. Because there has simply never been another pop-culture phenomenon quite like Hamilton. And, to shamelessly quote the show's anthem: They were in the room where it happened.
"There are moments that the words don't reach … " 
Hamilton, winner of 11 Tony Awards, is the story of Alexander Hamilton, an immigrant from the West Indies who became George Washington's right-hand man during the Revolutionary War and was the new nation's first Treasury Secretary.  With book, music and lyrics by Lin-Manuel Miranda, it features a score that blends hip-hop, jazz, blues, rap, R&B and Broadway.
Cast member Mathenee Treco calls Hamilton the story of America then, as told by America now.
"Hamilton changes lives," said Treco, who attended Eaglecrest High School in Aurora. And EduHam was perhaps recalibrating the lives of many of the students who spent the day at the Denver Center participating in the show's innovative educational program that debuted on Broadway in 2015 and has continued in every city it has visited since.
The participating students prepared by spending up to three months in their classrooms studying American history through a special integrated curriculum about Hamilton and the nation's other Founding Fathers. On Wednesday morning, select students performed original works based on their studies – songs, rap, poetry, scenes and monologues – on The Buell Theatre stage, in front of their peers. Afterward, they had a Q&A with six cast members.
"Immigrants … we get the job done"
Treco, like Hamilton and many of the students in Wednesday's audience, is an immigrant himself, having been born in the Bahamas and moving to Aurora with his family at age 6. "Today they saw a representation of themselves on the stage," he said. "Their energy was tangible. I could feel their excitement. And I think it's going to propel them."
Hamilton is performed by an almost entirely non-white cast. That the audience on Wednesday was almost entirely students of color, Treco said, was overwhelming — in the best possible way. "I want to see children of color feeling empowered and feeling uplifted," said Treco. But it was not a coincidence, said Hamilton Education Program Manager Amy DiChristina of the Gilder Lehrman Institute of American History.
It was the point.
"The goal of this program is to reach Title I schools across the country, and those schools are very often underserved," DiChristina said. Title I schools have high percentages of children from impoverished families, many of which speak English as a second language. "They don't have the resources they need. And they don't normally have access to field trips like these, or tickets to a show like this."
DiChristina's research indicates more than 65 percent of students who participate in EduHam  have never before attended a Broadway-level show in their lives. "So to be able to offer them both access and educational resources is the goal," she said.
Cast member Sabrina Sloan, who plays socialite Angelica Schuyler in Hamilton and volunteered to emcee the morning program at The Buell, said "it was incredible to see this group of students, specifically being mostly kids of color. I remember the first show my parents took me to was West Side Story, and seeing people who were brown onstage and seeing people who looked like me meant the world. It told me that theatre was something that was accessible to me. So knowing that Hamilton might be their first show ever really gives me chills."
(Story continues after the video playlist below.)
Click the video above to see all 14 of the Denver 'EduHam' student performances in one video playlist. Each one plays after the other. Videos by DCPA Video Producer David Lenk.
"I wrote my way out…"
Grace Padilla, a junior at Vantage Point High School, was one of the students who applied for — and won — a chance to recite from her poetry on The Buell stage. She has been writing since she was 7 years old, and self-published her own book at 14. She was inspired to bridge Hamilton's story with her own by penning a variation on a song from the Broadway musical called "Wrote My Way Out." It's the story of how Hamilton, born out of wedlock on the Caribbean island of Nevis, was abandoned by his father, orphaned at 13 and came to the American colonies two years later to further his education. Padilla can relate.
"I was born of dirt, but I will live of redwoods," Padilla read, bringing her peers to their feet.
"Growing up, I had to deal with being very poor in an abusive, broken home," she said afterward. "Hamilton wrote his way out, and that is what I have been doing with my life, too. I really wanted to touch other people and be their voice and let them know they are heard, too."
Noah Thomas, a junior at Atlas Preparatory High School in Colorado Springs, opened the program by reading a poem called "Remember the Ladies," written by his best friend, Laci Caballero. It's about Abigail Adams, wife of the second president, John Adams.  "While her husband was off building the country, he forgot the ladies," he said afterward. "This was Laci's way of saying, 'Remember them.'
Performing for thousands of peers, Thomas said, made him feel emboldened.
"Even though I'm just a 17-year-old kid from Colorado, I felt like my voice was heard, and Laci's words were heard, and the message behind them were heard," he said.
That, DiChristina said, is the point. "We want these students to go out into the world and feel empowered to use their voices for whatever they feel is important."
Four students from West Leadership Academy used their voices to perform a full scene called The Story of Peggy, about Hamilton's wife, in their native Spanish.
"I'm young, scrappy and hungry, and I'm not throwing away my shot."
Padilla said Miranda's spoken-word writing style is the biggest attraction to Hamilton for students  "because you just can't connect with the younger generation today without a little hip-hop and rap," she said.
Treco said Miranda isn't telling a different story than what is already being told in history books. He's just telling it in a more exciting way.
Sloan says presenting constitutional debates and personal disputes as rap battles is not only a clever variation on a Broadway theme — it is an essential way of reaching younger theatre audiences. "And it doesn't just reach students," she said. "It reaches everyone across generations, color lines, social, economic backgrounds. There is a truth to it. There is a humanity in how he speaks."  And the way he speaks, Treco added, "makes history sound really, really cool."
Life doesn't discriminate between the sinners and the saints…"
The Hamilton Education Program is one of several history education programs funded by the Gilder Lehrman Institute. "This project is transformative," said president James G. Basker — who devised the education program in New York in tandem with Miranda, Hamilton producer Jeffrey Seller, The Rockefeller Foundation and the New York City Department of Education.
"Hamilton has struck a chord with students because it embodies what great history education is all about: Bringing the past to life, and fostering connections with the exceptional individuals and moments that have made us who we are. This program empowers students to reclaim their own narrative and empowers teachers to bridge classroom learning with the stage."

(Story continues after the video below.)
The response to EduHam on social media was rapturous. On Twitter, Jill Williams called the Hamilton "the best history lesson ever." A sample of others:
"One of the best things about Hamilton is that every person in the room is excited about art and music and collectively vibrates with good energy," a woman named Jennifer Tweeted. "We need more of that."
Wrote Lois Rapport on Facebook: This was so fabulous. I am so happy to be a part of a group that encourages learning and helps kids fall in love with the theater. I was lucky that my parents took me to the theater at a young age, and I immediately was hooked."
West Early College posted: We are so proud of our very own Josiah Blackbear, who was selected as one of the students to perform on stage for EduHam Keep an eye on our rising star. He is going places.
"That was amazing for those students. I hope the felt as inspired as I did," posted Matt Carnes.
This is not a moment, it is a movement
Treco said for it took guts for the high-school students to bare their souls before their peers on the Buell Theatre stage, but he's sure the experience laid seeds of courage left that are already now germinating.
"They killed it," Treco said. "Honesty is scary. But at the end of the day, they spoke their truth, and I promise you some of those kids just got really addicted to that feeling. … And some of them will be performing in Hamilton someday."
John Moore was named one of the 12 most influential theater critics in the U.S. by American Theatre Magazine in 2011. He has since taken a groundbreaking position as the Denver Center's Senior Arts Journalist.
The participating schools:
·    Alameda International High School
·    Arapahoe Ridge High School
·    Atlas Preparatory School
·    Bruce Randolph High School
·    Denver School of Science and Technology
·    Green Valley Ranch High School
·    Denver South High School
·    DSST: College View High School
·    Early College Academy
·    Emily Griffith High School
·    Global Leadership Academy
·    Harrison High School
·    High Tech Early College
·    John F. Kennedy High School
·    Justice High School
·    KIPP Denver Collegiate High School
·    KIPP Northeast Denver Leadership Academy
·    Kunsmiller Creative Arts Academy
·    Legacy Options High School
·    Manual High School
·    Mapleton Early College High School
·    Moffat School (K-12)
·    Monte Vista High School
·    Noel Community Arts School
·    North High School
·    Northglenn High School
·    Overland High School
·    RiseUp Community School
·    Sheridan High School
·    Sierra High School
·    STRIVE Prep RISE
·    STRIVE Prep- SMART
·    STRIVE Preparatory Schools – Excel Campus
·    The New America School Thornton
·    Vantage Point High School
·    Venture Prep
·    West Early College
·    West Leadership Academy
·    York International
The student performers (with video links):
Noah Thomas, Atlas Preparatory School
"Remember the Ladies"
Direct video link: https://youtu.be/0v1stGZo7po
Esteban Gallegos and Madis, on RustEmily Griffith High School
"Hypocrisy of America"
Direct video link: https://youtu.be/fys9vkwFyWc
Eduardo Gonzalez and Sydney Hernandez, Global Leadership Academy
"Boston Tea Party"
Direct video link: https://youtu.be/VEbqfxspC58
Erin JonesHarrison H, igh School
"My Father"
Direct video link: https://youtu.be/mrk_pIx_-7U
Albert Ortega, High Tech Early College
"George Washington at Valley Forge"
Direct video link: https://youtu.be/dXjmAHPVTAw
John Le, Kunsmiller Creative Arts Academy
"Aaron Burr"
Direct video link: https://youtu.be/-hT17DgOelU
Luis Castro and Jesus Villa, Mapleton Early College High School
"Hamilton v. Jefferson Constitution"
Direct video link: https://youtu.be/xNR2vJ226_4
Ryker Poor and Sabian Storm, Moffat School
"Jefferson v. King George"
Direct video link: https://youtu.be/wh1Af6pU5s0
Precious Allen, Sierra High School
"Common Sense"
Direct video link: https://youtu.be/hAe-INcmJ2k
Issak Lucero, Strive Prep – SMART
"Benjamin Franklin"
Direct video link: https://youtu.be/KQBBuj94vxo
Isabel Aguilar, Jaqueline Garcia and Brandon Garcia
The New America School at Thornton
"Boston Massacre"
Direct video link:  https://youtu.be/xIv7YatWQfE
Isabel Aguilar, Jaqueline Garcia, Brandon Garcia, The New America School at Thornton
"Boston Massacre"
Direct video link: https://youtu.be/bWk5j00QsGc
Grace Padilla, Vantage Point High School
"Wrote My Way Out"
Direct link: https://youtu.be/wMlT6NmvrPE
Josiah Blackbear, West Early College
"Alexander Hamilton"
Zehydi Chaparro-Rojas, Jose Torres-Andazola, Rossy Martinez-Sanchez and Alexandra Andazola-Chavez, West Leadership Academy
"The Story of Peggy"
Direct link: https://youtu.be/sRfGFcMZjC8
https://www.denvercenter.org/wp-content/uploads/2018/04/featured-image-5786.jpg
801
400
John Moore
John Moore
2018-03-23 15:42:00
2020-01-08 11:26:04
For one day in Denver, 'Hamilton' makes students the stars