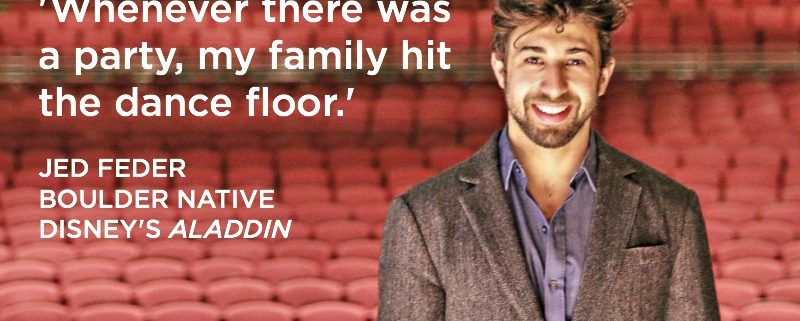 Jed Feder: A lad in Boulder is now bowing in 'Aladdin' in Denver
Jed Feder's earliest theatrical memory is attending a 1997 national touring production of 'Annie' at the Buell Theatre. Tonight, he officially joins the cast of Disney's 'Aladdin' on the very same stage. Photo by John Moore for the DCPA NewsCenter.  
Boulder High graduate's wish came true to debut in Denver, just five days earlier than he or Disney originally planned

By John Moore
Senior Arts Journalist
Jed Feder's magic carpet arrived in Denver about five days early.
The Boulder native had been sitting for weeks on the happy news that he would be making his debut as Kassim in Disney's Aladdin tonight (April 24) while the national touring production is visiting the same Buell Theatre where Feder grew up watching Broadway shows. Hometown stories don't get any better.
Only his does.
Last Thursday, as Feder was on his way to the Buell for a regularly scheduled, five-hour rehearsal, he got a text telling him to stop by and see the production stage manager when he arrived. "So … do you want to go on tonight?" Michael McGoff asked Feder. Keep in mind, this was a full five days before Feder's planned debut — and only eight hours before that night's performance would begin in front of 2,800 people. Of course, Feder said yes. "And Michael was like, 'Cool, let's go do the rehearsal,' " Feder said with a laugh.
There would be just enough time to summon Feder's parents, Rob and Andrea, from Boulder, and his only sister Rachel, an English professor at the University of Denver. But not enough time for Feder's girlfriend, who already had made plans to fly into Denver from Seattle for tonight's show. "She was disappointed that she didn't get to see what turned out to be my first performance — but she somehow got flowers sent to the stage door in less than an hour," Feder said.
Making Feder's challenge all the greater was the fact that he wasn't being promoted from within a show he already knows well. He is a newbie joining a cast that has been together on the road performing in front of nearly a million people over the past year. This would be Feder's first time playing Kassim on any stage anywhere. And not just any stage. The stage where one of his earliest memories is seeing the touring production of Annie in 1997.
But in the end, the evening was a thrilling, surreal success.
"I was expecting to walk out on that stage and see nearly 3,000 people, but the most shocking part about it was that it was like walking into a black hole. You can't see anything," Feder said. "But as soon as they started reacting and laughing, I could hear them. And then I could feel them. I could feel them breathing."
Feder credits the support he got from castmates Zach Bencal and Philippe Arroyo, who play Kassim's layabout pals, Babkak and Omar. In the Broadway musical, these three characters replace Aladdin's animated sidekick, Abu the monkey. "We basically serve as Aladdin's little street family," Feder said. "Luckily, I am never on stage without those other two guys, and they totally got me through it. Toward the end I was just holding onto them. But we did it."
Broadway begins in Boulder
T
he Feder family moved from Manhattan to north Boulder when Rachel was 4 years old and Jed was 6 months. Rob Feder is a real-estate land-conservation lawyer who specializes in open space, while Andrea's background is in social work. "When I was born, my parents had this realization that they did not want the city life for us," Jed said. Instead they raised their children on the go and out of doors: Backpacking, camping, canoeing. Anything under the sun. "Being outdoors was a big family value," said Feder.
So was the arts. The Feders exposed their children to every form, from fine arts to music to theatre. Jed picked up a guitar when he was 6. The family took regular culture trips to New York. "Everywhere we went, we were going to museums and seeing theatre," said Jed, who got hooked on any art that moved. "My dad loved the museums most, but I'm color-blind, so I never really took to art as much. I was rewarded for my patience in the museums by seeing the shows later that night."
Disney names a new Aladdin for Denver: Clinton Greenspan
Back home, Jed attended many stage shows with his grandmother at Boulder's Dinner Theatre (now BDT Stage). She took Rachel and Jed on separate special trips to see classics like The Music Man and Camelot. "I remember it was all about the Bosco Sticks," Feder said with a laugh. "That, and I was really into their souvenir glasses."
Jed's first show as an actor was a family affair. The Feders joined a community theater production of Fiddler on the Roof that was performed in the outdoor pavilion at Chautauqua Park.
"It was really my sister who wanted to do the show, and my dad told me, 'Well, then, you're going to do it, too.' I was 7 at the time, and I remember my dad pushing me to all the places where I was supposed to stand on the stage. I also remember getting my cheek pinched by Yente."
Feder attended Boulder High School, where he performed in West Side Story, Chicago and Jesus Christ Superstar. "My big breakthrough was playing Mary Sunshine in Chicago," Feder said of a female reporter who eventually reveals herself to be a man. Feder went to Northwestern as a math and film major, though he eventually dropped the math for music composition. His unusual path since has evolved into what he calls "half as an actor, half as a drummer." His resume lists among his special talents: "Extreme finger-snapping and body percussionist."
But for a young man who has never followed a beeline toward one specific field of performance, the live theatre has done a good deal of steering for him. He was cast in a big-time production of Mother Courage and Her Children at the Arena Stage in Washington D.C. that was directed by one legend (Molly Smith) and starred another (Kathleen Turner). He also has performed for the Chicago Shakespeare Theatre.
The family that dances together
He landed his role in the dance-heavy Disney's Aladdin tour simply by showing up at a Chicago audition. And he got it, despite not having any actual dance training. Unless you count the innumerable bar mitzvahs and weddings the Feder family has attended in Boulder over the past few decades. "I come from a family of good movers. I mean we are not shy people," Feder said. "Whenever there was a party, my family hit the dance floor."
But still, Disney's Aladdin is a show with big, aerobic musical numbers that last eight and 12 minutes at a time.
"Well, the dancing has certainly been the hardest part for me to get into my body," he said. "But I did grow up doing some swing dancing just for fun. And at Northwestern, I was in this group called Boom Shaka. It's a rhythm-and-dance ensemble that was sort of like Stomp. It was half drummers and half dancers. Those dance majors at Northwestern upped my game, for sure."
And now Feder is appearing in Aladdin, based on a film he grew up watching at home until the VHS tape wore out. Appropriately witnessed by the family who encoded the story into his DNA.
"It is an ongoing joke in my family for my dad to say, 'Who disturbs my slumber?' " Feder said of the famously terrifying threat issued to Aladdin by the tiger in the Cave of Wonders. But it's been going on so many years now, even his parents had forgotten where exactly it came from — until they saw Feder's first performance as Kassim last week.
Celina Nightengale is doing her happy dance in Denver

"After the show, my mom was like, 'Did you remember that that was from Aladdin?' "
Feder says it's especially fun for him to watch Aladdin on stage through adult eyes and compare it to the kid-friendly animated film he grew up on.
"I actually saw the show really soon after it opened on Broadway, just because I wanted to," Feder said. "I think it very much honors the original film while also honoring the tradition of a big Broadway musical at the same. There's really something for everyone. I mean, you've got these big, Broadway production numbers. You've got Disney magic going on all over the stage. And when I first saw the magic carpet, my jaw literally dropped. It really sucks you in. It's a good family night. It's a good date night. It's just incredible."
Feder's quirky, multidisciplinary career includes a college band that has been compared to Tenacious D. "We call it comedic contemporary rock," he said with a laugh. He also has scored two musicals, including one that premiered at North Carolina State University last October. "It's called Beowulf: Lord of the Bros," he said with another laugh. "It's a modern bromantic comedy adaptation of Beowulf."
With so many different directions to follow, Feder was asked when he realized that his immediate future is in the live theatre. In Aladdin.
"I don't really know," he said. "I guess when I got cast in this show."
John Moore was named one of the 12 most influential theater critics in the U.S. by American Theatre Magazine in 2011. He has since taken a groundbreaking position as the Denver Center's Senior Arts Journalist.


Photo gallery: Jed Feder in Boulder


Boulder native Jed Feder he has provided some photos of his early life in Colorado with his family. Also photos of Feder on the Buell Theatre stage by Senior Arts Journalist John Moore for the DCPA NewsCenter. To see more, click on the image above to be taken to our full gallery of photos.

Disney's Aladdin: Ticket information

From the producer of The Lion King comes the timeless story of Aladdin, a thrilling new production filled with unforgettable beauty, magic, comedy and breathtaking spectacle. It's an extraordinary theatrical event where one lamp and three wishes make the possibilities infinite.
National touring production
Performances through April 28
Buell Theatre, Denver Performing Arts Complex
Call 303-893-4100 or BUY ONLINE
Previous NewsCenter coverage of Disney's Aladdin:
More Colorado theatre coverage on the DCPA NewsCenter
'Aladdin.' Photo by Deen van Meer.
https://www.denvercenter.org/wp-content/uploads/2018/04/featured-image-6469.jpg
591
800
John Moore
John Moore
2018-04-24 15:42:00
2018-06-15 08:48:12
Jed Feder: A lad in Boulder is now bowing in 'Aladdin' in Denver