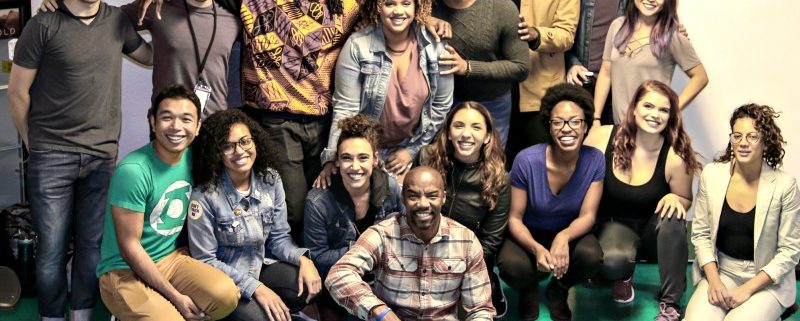 'RENT' and more: No day like Tuesday at the Denver Center

Original 'RENT' cast member Rodney Hicks, front, joins the ensemble performing the RENT 20th Anniversary Tour playing at the Buell Theatre through Tuesday, Nov. 21. Photo by John Moore for the DCPA NewsCenter.
Original cast member meets the newest crop of stage squatters, capping a Tuesday that's one to remember

By John Moore
Senior Arts Journalist
"No day but today," the cast sings at the finale of RENT, which opened in Denver on Tuesday night. But there was no day quite like Tuesday at the Denver Center in recent memory.
The day began early with the morning introduction to employees of Chris Coleman as the DCPA Theatre Company's fourth Artistic Director. Coleman, who has led Portland Center Stage for 17 years, was accompanied by husband Rodney Hicks, who originated the role of Paul and others when RENT debuted on Broadway in 1996.
Tuesday was a homecoming for Hicks, who played Edmund in the DCPA Theatre Company's King Lear in 2007. Coleman said Hicks was encouraging about the potential new job in Denver based on his brief experience here. "He told me, 'What's possible in that performing-arts complex is very unique in the American theatre,' " said Coleman.
Coleman also told the gathered company members a personal story that elucidates why storytelling means so much to him. It happened when his sister died quickly and unexpectedly, he said, from a burst clot that stopped her heart.
"What that solidified for me is that we know not the hour or the day," Coleman said. "We do know that the universe calls to each of us to carve out meaning in the time that we have together on this planet."
(Pictured right: Chris Coleman and his husband, Rodney Hicks. Photo by John Moore for the DCPA NewsCenter.)
At the same time Coleman was being introduced, DCPA Education was staging a morning performance of its inaugural Theatre for Young Audiences offering, The Snowy Day, in the Conservatory Theatre.
That evening, as RENT was opening its 20th Anniversary touring production to screaming fans in the Buell Theatre, the the Garner Galleria Theatre was hosting a preview performance of the homegrown musical First Date, featuring a cast of all-local actors. Over in the Ricketson Theatre, the Theatre Company's smart comedy Smart People was playing out. It's the story of four young Harvard intellectuals who collide over race and sexual politics.
Following RENT, Hicks and Coleman were taken backstage along with DCPA President and CEO Janice Sinden and Broadway Division Executive Director John Ekeberg. The cast and crew gathered in the green room to meet Hicks, trade some stories and take a group photo.
Hicks told the newest RENT squatters their performance transported him right back into his 21-year-old shoes, and that at intermission, he texted superstar Anthony Rapp (the original Mark Cohen) to tell him all about it. Hicks, who has several other Broadway credits, most recently Come from Away, returned to the RENT family in 2007 to play Benny, the conformed ex-roommate who is now evicting his penniless old bohemian friends "for their own good." Hick spoke to the cast of the ongoing influence the late RENT composer Jonathan Larson has on his life.
Back in the Buell, four cast members regaled a few hundred audience members who stayed for a post-show Q&A — and some in the crowd returned the favor. One woman told the story of having been in attendance at RENT's first pre-Broadway performance (and that this touring cast compared quite favorably). Another thanked the cast for bringing the show back to life with this touring production, and revealed a RENT shoulder tattoo that takes its inspiration from the show.
The audience was also delighted to learn that actor Lyndie Moe, who plays the demonstrative performance artist Maureen in RENT, is a Colorado native and granddaughter of beloved former Denver Nuggets coach Doug Moe. She was asked how the loveable, legendary old coach liked seeing her perform the evocative role created by Idina Menzel. "I'm not going to lie, I was nervous about that — but he actually really liked it, thank God," said Lyndie, whose sport of choice was volleyball through high school and college.
(Here is a video of Lyndie Moe performing the national anthem at a Nuggets game at McNichols Sports Arena in 2006. Photo at right.)
One young audience member asked what advice the cast has for aspiring performers such as herself.
"Well, RENT was my first audition in New York — and I got it," said Moe. "So my advice is to just go for everything, because you can never know what you are going to get."
All in all, "today" was one very full day at the Denver Center, one that was unique in many ways but at the same time representative of the non-stop activity that both surrounds and fuels the Denver Performing Arts Complexon a daily basis.
John Moore was named one of the 12 most influential theater critics in the U.S. by American Theatre Magazine in 2011. He has since taken a groundbreaking position as the Denver Center's Senior Arts Journalist.




RENT: 20th Anniversary Tour: Ticket information

At a glance: This Pulitzer Prize and Tony Award-winning masterpiece returns to the stage in a vibrant 20th anniversary touring production. With its inspiring message of joy and hope in the face of fear, this timeless celebration of friendship and creativity reminds us to measure our lives with the only thing that truly matters.
National touring production
Performances Nov. 14-21
Buell Theatre, Denver Performing Arts Complex
Tickets start at $25
Call 303-893-4100 or BUY ONLINE
Sales to groups of 10 or more CLICK HERE

Previous NewsCenter coverage of RENT:
Two decades later, RENT still comes in on time
RENT announces daily Denver lottery for $20 orchestra seats
https://www.denvercenter.org/wp-content/uploads/2018/04/featured-image-5605.jpg
621
800
John Moore
John Moore
2017-11-15 20:15:00
2018-06-14 11:39:51
'RENT' and more: No day like Tuesday at the Denver Center