Betty Hart and Amanda Berg Wilson: Meeting of the mind(s)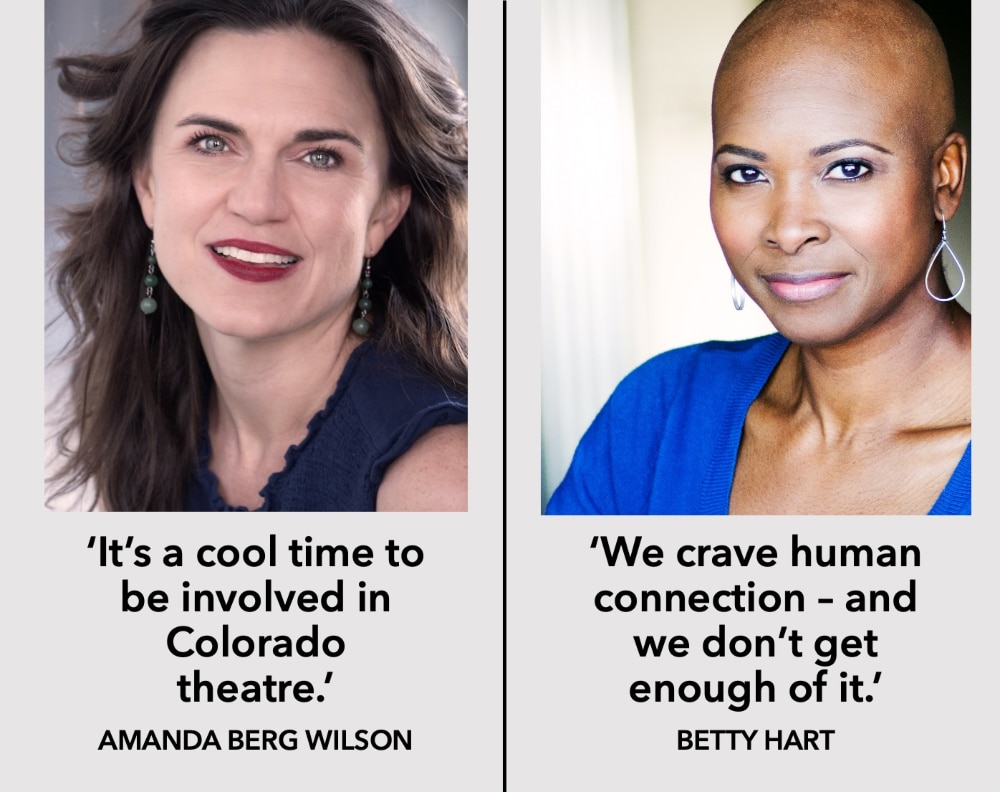 Accomplished local directors teaming up for David Byrne and Mala Gaonkar's Theater of the Mind
With years of experience under their belts, accomplished local theatre directors Betty Hart and Amanda Berg Wilson are next teaming up as co-assistant directors for Off-Center's highly anticipated immersive experience Theater of the Mind. Co-created by Talking Heads frontman David Byrne and writer Mala Gaonkar, and directed by Andrew Scoville, Theater of the Mind will be a 15,000-square-foot adventure taking just 16 audience members at a time through a journey of self-reflection, discovery and imagination, inspired by and grounded in neuroscience.
But before that one starts blowing minds in August, Hart and Berg Wilson each have directed shows currently in production for other local theatre companies. Here's a quick look at each:
The Catamounts presents Shockheaded Peter
Berg Wilson is the director of The Catamounts' Shockheaded Peter, playing through March 7 at the Dairy Arts Center in Boulder. It's an immersive, multi-generational punk opera based on the German children's book Struwwelpeter by Heinrick Hoffmann, with music by cult British musical trio The Tiger Lillies. Shockheaded Peter uses puppets to tell a dark story about what happens when children don't do as they're told. "The message of Shockheaded Peter is that we should let children be who they are rather than constantly trying to control their behavior," said Berg Wilson. "Our constant efforts to make children fit our expectations are fruitless."
The musical premiered in West Yorkshire in 1998 before moving to London and beyond. The Catamounts' production, however, is one of a kind. "The original production was very heavy on the puppetry," Berg Wilson said. "We have puppets, but we also have actual children playing the children, rather than just puppets. We've also staged it immersively. We've converted the Carsen Theatre at the Dairy into an attic, and you are very close to the performers throughout. You're engaged in ways that are more active than your traditional show." Berg Wilson also noted that her puppets are all made of recycled materials to remind audiences how inanimate objects came to life in their minds when they were children.
The script leaves a lot of room for interpretation. "It's just songs and a bit of dialogue," Berg Wilson said. "It's only 23 pages. So it was really an opportunity to do something collaborative, with me as the ultimate editor, that was wholly conceived by the four of us."
Those helping to bring the story to life include puppet director Aaron Vega; music director Paul Fowler; and Joan Bruemmer-Holden, the assistant director and co-choreographer.
Vintage Theatre's The Scottsboro Boys
Meanwhile, at Vintage Theatre in Aurora, Hart is directing The Scottsboro Boys, playing through March 15. With a book by David Thompson, and music by John Kander and Fred Ebb (of Chicago and Cabaret fame), The Scottsboro Boys tells the story of a group of young African-American men were falsely accused of raping two white women aboard a train near Scottsboro, Alabama, in 1931. Hart said one of the musical's many lessons "is that history is doomed to repeat itself if you don't learn from it."
The Scottsboro Boys premiered on Broadway in 2010 and received 12 Tony Award nominations. Vintage Theatre's production is being staged in a much more intimate space. Although the case took place nearly a century ago, its modern relevance is plain from the continuing proliferation of cases involving police treatment of African American men. Hart makes a point of referring to "The Scottsboro Boys" as "The Scottsboro Nine" instead because she is keenly aware that "boys" is a historically a pejorative reference to African American men. "I felt the impact of it at the auditions, because I was calling for the nine 'boys,' and there was a moment when I felt it," Hart said. "I took a moment and said, 'You know what? I will not use this term again.' " And from that point on, the only time Hart uttered the word during rehearsals was when referring to the title – or when the word was in the script.
The trials (and retrials) of The Scottsboro Nine was a miscarriage of justice that forced the defendants to spend years in the harshness of the Alabama prison system. But the case did spark an international uproar and produced two landmark U.S. Supreme Court cases that became the foundation for essential legal protections going forward.
"The first time it went to the Supreme Court, it was ruled that you can't have a trial without legal representation," Hart said. "The second time, the Supreme Court ruled that you actually have to be judged by a jury of your peers." Hart also noted that author Harper Lee used the Scottsboro trial as inspiration when she wrote To Kill a Mockingbird (which is coming to the Denver Center in its first national tour in 2021).
Hart's assistant director was Lee Ann Scherlong, and her choreographer was Christopher Page-Sanders.
Read our exclusive interview with David Byrne on Theater of the Mind
Preparing for Theater of the Mind
With their two productions open, the directors' attention now shifts to Theater of the Mind. Led by a Guide whose stories are inspired from the creators' lives, audiences will explore how they perceive the world through sensory experiments that reveal the inner mysteries of the brain.
"I think it's safe to say that for both of us, the technology for this one is bigger than anything we've ever worked on before," Hart said, "so it's both daunting and thrilling at the same time."
Both Berg Wilson and Hart are fans of David Byrne's work and are excited to get to work closely with the co-creator and artist starting later in March. "I have video of my 4-year-old daughter singing 'Psycho Killer. I'm that kind of fan," said Berg Wilson, who attended Byrne's concert in support of his album American Utopia before Byrne turned it into one of the hit musicals of the current Broadway season.
"I've always been a fan of Talking Heads' music and some of David's solo stuff, and I got to see American Utopia at Red Rocks before I knew I would be involved in this project," Berg Wilson said. "I just feel like he is someone who has not rested on his laurels."
Byrne's record-breaking Broadway debut with American Utopia ended its limited run in February. But because of the show's success, it was just announced that Byrne will remount the musical in September, just after Theater of the Mind opens in Denver.
Hart, who considers herself more of a peripheral fan, admires Byrne's tenacity. "I think he's cool, and his music has always been interesting and distinct, which I admire in an artist," she said. "I am super excited to be able to work with someone who continues to evoke change in both the music and the theatre industry."
Hart and Berg Wilson will be working with a largely New York-based creative team for Theater of The Mind, and they both consider it a huge honor to represent the local theatre community in the making of the experience. "It's great to work on a mostly New York-based team and also feel like, 'Oh yeah, I belong in the room,' " said Berg Wilson.
Hart and Berg Wilson both have long lists of directing credits, but Theater of the Mind will be the first time either has served as an assistant director. "With the shows we just directed, we're responsible for the vision. We're the architects," Hart said. "As assistant directors, it's not our vision. We're there to support the vision the director has for the work that David and Mala have created. Our job is to get on board with that vision and to help articulate it to the actors.
"We're there to support the vision the director has for the work that David and Mala have created, and to help articulate it to the actors." – Betty Hart
Berg Wilson has worked with Off-Center Curator Charlie Miller on immersive projects before, and she said that experience will come in handy here. "I was in the cast of Sweet & Lucky, which was an awesome piece, and it also took place in 15 places at once," Berg Wilson said. "One of the cool things about what Charlie is doing with Off-Center is that this is an iterative process of how to create immersive theatre, because it's both an old form and a new form. I think one of the things he's learned along the way is that you can't have just one director. As Betty says, there needs to be one guiding vision – but that person cannot serve the production without some serious deputies."
Both agree that immersive theatre is an important part of the theatre ecology in Colorado as well as an important development in theatre as a medium. "I think Colorado is a pretty experiential place," Berg Wilson said. "Theatre in some communities is about getting dressed up, going to the theatre and sitting quietly with your program. My experience with The Catamounts and Off-Center is that there is a whole community of Coloradans who are not interested in sitting quietly in the theatre. If you give them the opportunity to be engaged in a more active, central way, they will come."
Hart believes the appeal of immersive theatre lies in our innate desire for human connection. "Immersive theatre creates connection that is tangible, visceral and unexpected, even when you come knowing that's what you're going to get," Hart said. "I think Coloradans in particular, but also everyone who is into immersive theatre, crave human connection – and we don't get enough of it."
Berg Wilson is glad to have seen the diversity of local storytelling greatly expand since she came to town 10 years ago. "I've been able to work here at the Denver Center with better resources than they have at The Catamounts, and I can take that experience back to The Catamounts and grow from it," Berg Wilson said. "It's a cool time to be involved in Colorado theatre."
Shockheaded Peter/At a glance
Presented by: The Catamounts
Dates: Through March 7
Created by: Julian Bleach, Anthony Cairns, Graeme Gilmour and Tamzin Griffin (book); Adrian Huge, Martyn Jacques and Adrian Stout (music); and Martyn Jacques (lyrics), adapted from the German children's book Struwwelpeter by Heinrick Hoffmann
Directed by: Amanda Berg Wilson
Featuring: Joan Bruemmer-Holden, James Brunt, Elias Christol, Tresha Farris, Luca Fowler, Paul Fowler, Kellie Fox, Lily Gruber, Lance Rasmussen, Maggie Tisdale, Ronan Viard, Todd Bilsbourough, Matt Powelson, Macaelle Vasquez and Eloise Wilson
Where: Dairy Center for the Arts, 2590 Walnut St., Boulder
Tickets:  303-440-7826, 720-468-0487 or thecatamounts.org
The Scottsboro Boys/At a glance
Presented by: Vintage Theatre Productions
Dates: Through March 15
Created by: John Kander and Fred Ebb (music and lyrics), David Thompson (book)
Directed by: Betty Hart
Featuring: Preston Adams, Michael Bateman, Colette Brown, Dwayne Carrington, Randy Chalmers, Elisha Horne, Timothy Kennedy, Brandon Metoyer, Josiah Peters, Michael Peters, Christopher Razor, Jayvon Rollerson, and Owen Zitek
Where: 1468 Dayton St., Aurora
Tickets: 303-839-1361 or vintagetheatre.com
Theater of the Mind: Ticket information
The story at a glance: Inspired by both historical and current lab research, Theater of the Mind takes you on an immersive journey inside how we see and create our worlds. Co-created by Talking Heads frontman and artist David Byrne and writer Mala Gaonkar, the show uses stories from their own lives to shape a narrative you'll see, feel, taste and hear. Witness the wonders of your mind for yourself as you follow The Guide through a spectacular 15,000-square-foot installation with 16 fellow audience members. As you explore intriguing environments, participate in a narrative and try a series of sensory experiments, your Guide will question how beliefs, memories and even our identities are less fixed than we think. Caution: the brain may wander. Side effects may include a distrust of your own senses, a disorientation of self, and a mild to severely good time. You may not be who you think you are. But we're all in it together.
Presented by: Off-Center
Created by: David Byrne and Mala Gaonkar
Directed by: Andrew Scoville
Opening: August 2020
Where: Location to be announced
Tickets: An on-sale date will be announced later. To sign up to receive more information, visit theateroftheminddenver.com
The Assistant Directors/At a glance
Amanda Berg Wilson (Assistant Director). As director: The Wild Party, Between Us: The Whiskey Tasting (DCPA Off-Center); 9 to 5, Pride and Prejudice (Creede Repertory Theatre); Shockheaded Peter, God's Ear, Failure: A Love Story, Rausch, Men On Boats, United Flight 232 and many more (The Catamounts). As performer: Sweet & Lucky (DCPA Off-Center); Detroit (Curious Theatre Company); There is A Happiness that Morning Is (The Catamounts). Amanda is Artistic Director of The Catamounts, a Boulder-based company dedicated to adventurous theatre.
Betty Hart (Assistant Director). Lady Day at Emerson's Bar and Grill (DCPA Cabaret and Vintage Theatre); The Scottsboro Boys, Crowns (Vintage Theatre); Hooded, or Being Black for Dummies (Aurora Fox); The Darker Face of the Earth, Evelyn in Purgatory, A Thousand Circlets, Jim Crow and the Rhythm Darlings (Essential Theatre); Loose Change, On Empty (Kaiser Permanente Arts Integrated Resources). Special/Awards/Training: 2018 True West Award Winner.
https://www.denvercenter.org/wp-content/uploads/2020/02/Amanda-Berg-Wilson-Betty-Hart-1.jpg
792
1000
Cayl Jameson
Cayl Jameson
2020-02-28 14:06:07
2020-03-03 08:30:46
Betty Hart and Amanda Berg Wilson: Meeting of the mind(s)