DCPA's Newest Arrival, the Sustainable Catering Company Serendipity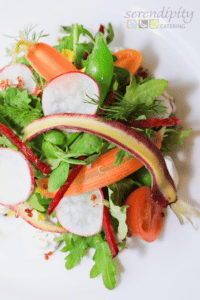 If you have attended an event in the Denver Center for the Performing Arts since January 2022, chances are you sampled cuisine by one of our five our new culinary partners, Serendipity Catering. But it's not just good meals owner Laura Zaspel is dishing out. It's a dedication to making the food world a better, more sustainable operation.
"We care about where your food comes from, so we are dedicated to do more digging into the process and practices of our products," says Laura, who has implemented these ideals into the company since launching it in 1998. "That's why the tagline is, 'We aren't going green, we were born green.'"
Laura launched Serendipity with her husband Todd, who is a chef, over 20 years ago. But before that, and during the first 11 years of running the business, she worked in energy technology. With two master's degrees from the University of Denver under her belt, she had a career with the Department of Energy with a focus on energy efficiency. That job led her to not only know a lot about sustainability but also incorporate the knowledge into the catering company.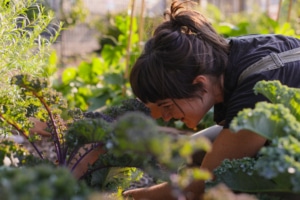 But applying sustainability to a 700-person dinner or elegant soiree at the DCPA isn't as simple as wanting to be green. Laura researches each purveyor she works with and plans each event based on what the client wants to focus on. Some people want recyclable single-use plates, others like the idea of china and reusing the dishes and cutlery. And if they want to go the compostable route, Serendipity provides the dinnerware and connects the client with a vendor who can appropriately dispose of the materials in an environmentally friendly way.
On the food side, there are companies that come to Serendipity looking for mostly local products, or organic ingredients, or just want to know what they are getting is as good for the planet and Colorado as possible. Part of the job, she says, it to talk to them and plan accordingly.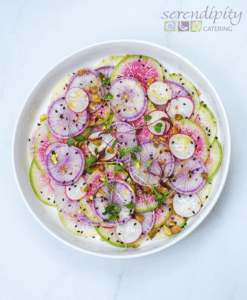 "A true green event is a properly planned event," she says. "It used to be that if you ran out of something it was so embarrassing. But now, we plan so well that we have no leftovers."
One recent event featured pomegranate duck breast with blue Peruvian potatoes and fennel pollen; a salad of quinoa, Anasazi beans, garbanzos, heirloom carrots, English cucumber and cherry tomato; and heirloom tomato with burrata, blue basil, pistachios, and a huckleberry lavender coulis. To name a few of the many dishes on that particular menu, and many of the ingredients are sourced locally.
Serendipity also has its own urban garden, and sometimes that comes into play on a menu too. Recently the team created two appetizers using produce from there, a sheep's milk ricotta with pickled apple, raw honey, pumpernickel, pine nuts and cracked pepper; and a roasted corn chowder with smoked oyster mushrooms in a gougère bowl and topped with basil gremolata.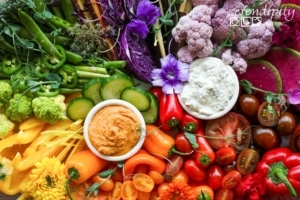 While this is just a portion of what Laura's team at Serendipity does for feasts at the DCPA (and other places as well), each piece of each dish is thoughtful and well planned. It's that aforementioned planning, she says, that's key in running a successful and sustainable business.
"You have to look at like, why did we slaughter a chicken if it was just going in the trash?" she says. "If that's the case, then let's get smarter about the overall meal planning."
A lot of what makes Serendipity an eco-friendly catering company happens in the kitchen. Food waste in general is kept to a minimum. But when there are scraps of food, each chef has a compost bucket by their station to put it in. Then, all of that goes into collective bin and sent to be processed by another company that professionally deals with compost.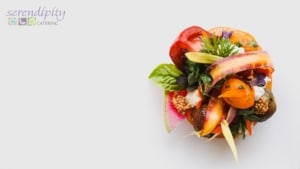 Another way Serendipity helps the sustainable food world is by donating funds and supporting regenerative agriculture. This practice is about letting the land heal with biodiversity and thoughtful farming and ranching programs. Each time the catering company serves a dish, one percent of proceeds go to supporting this type of agriculture.
In the end, every little bit counts, and we are happy to have not only the tasty skills of Laura's chefs at Serendipity on our side, but the feel-good practices too.
https://www.denvercenter.org/wp-content/uploads/2022/08/Serendipity_5.jpeg
720
1080
Linnea Covington
Linnea Covington
2022-08-16 09:36:56
2022-08-16 09:50:33
DCPA's Newest Arrival, the Sustainable Catering Company Serendipity