Book Stars: Setting the stage for literacy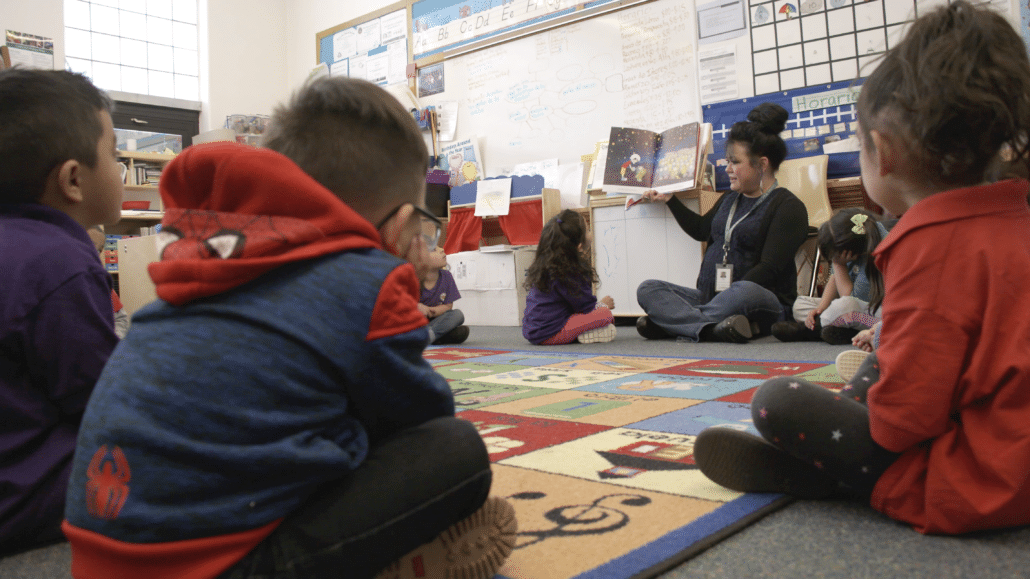 What would it have been like to have Charlie Brown's teacher? Wah wah, wah wah, wah wah…
 Good grief!
   A good teacher guides students to learn. A great teacher makes it fun. A DCPA Teaching Artist leaves an impression to last a lifetime.
   DCPA Education offers everything from acting classes to playwriting workshops, so it is no surprise that they also use storytelling to boost literacy.
   "Book Stars engages emergent readers in PreK-Kindergarten by empowering their developing abilities in making meaning between sounds and letters, text and image and their personal place in the world — all based on picture book characters and situations," said Patrick Elkins-Zeglarski, DCPA Director of Education. "Each Book Stars visit addresses up to 13 categories of Colorado Academic Standards, positioning students to apply their social and emotional learning skills within culturally responsive pedagogy that elicits both their creative and intellectual responses to the picture book at the center of the Book Stars visit."  
   That is to say that DCPA teaching artists invite children to actively explore literacy through fun, interactive play.
   "We go in and address the kids as actors," said Program Manager Rachel Taylor. "We begin with a three-part warm up before talking about the theme of the book. Then, each activity has a physical and emotional 'activation'. Using our imagination, we visit the places in the book, become participants in the story and explore the action together.
   "For instance, in Goodnight Moon, first, the children will lay the book on the floor and 'jump' into the story. Then we use Frank Sinatra's 'song, 'Fly Me to the Moon,' and they become the objects we pass on our journey to the moon — nebulas, comets, shooting stars, etc. Finally, they wiggle back out at the end to return to earth."
   Not only do the students have fun while learning the basics of literacy, but they also gain lifelong skills that will lead to their future success — perseverance, creativity, adaptability, empathy and confidence. 
   "They start to see how to tell a story — which is what theatre teaches us," continued Taylor. "It helps them find their voice, feel confident in their voice and know that they are capable of telling that story and being a part of it.
   "There's so little art in school and they don't have an opportunity to self-express or dream. This is a cool way to tie that into something that's also educational. They're learning phonics, word association, shapes and colors."
   Plus, they are learning important concepts from a variety of award-winning children's books. Imagine by U. S. Poet Laureate Juan Felipe Herrera is paired with activities that explore careers while encouraging the children to dream big. They Say Blue by Jillian Tamaki encourages kids to explore color, Yoko by Rosemary Wells celebrates cultural diversity and Click Clack Moo by Doreen Cronin introduces children to life on the farm. 
    The full reading list is so extensive that schools often invite Book Stars into a monthly school residency, which allows the children to develop their literacy skills and self-esteem over time. The regular visits also incentivizes teachers to incorporate concepts of theatrical activation into other areas of their daily curriculum.  
   "The Teaching Artists are SO good!" exclaimed one Denver Public Schools Teacher. "These are some of the best interactions I have witnessed with my class."
   The program has grown rapidly in recent years and now enlists 15 teaching artists who facilitate workshops in as many as four schools each day. In the current school year, it's anticipated that more than 13,000 students will participate in Book Stars representing 75 schools and 500 individual classrooms.
   "We want children to think about what's possible in life but also what's possible in the world," Taylor concluded. "It helps them discover they can be part of the story."
   If your child's school would like to be part of the story, visit denvercenter.org/bookstars to book a single visit or monthly residency. 
https://www.denvercenter.org/wp-content/uploads/2021/12/Book-Stars-page.png
2578
4584
Suzanne Yoe
Suzanne Yoe
2021-12-10 08:03:22
2021-12-10 08:05:21
Book Stars: Setting the stage for literacy